Watchmaking as an art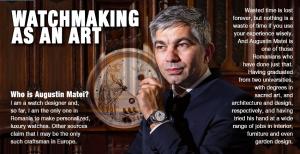 Wasted time is lost forever, but nothing is a waste of time if you use your experience wisely. And Augustin Matei is one of those Romanians who have done just that. Having graduated from two universities, with degrees in sacred art, and architecture and design, respectively, and having tried his hand at a wide range of jobs in interior, furniture and even garden design, Augustin Matei realized that his experience allows him to make the transition from landscaping to watchmaking. And so, he is now the only artist in Romania who makes personalized watches for each customer, based on their own story and personal experiences.
Who is Augustin Matei?
I am a watch designer and, so far, I am the only one in Romania to make personalized, luxury watches. Other sources claim that I may be the only such craftsman in Europe.

What was life like before you entered the world of watchmaking?
I was a landscaping designer, building roof-top gardens. I had a team and I used to be a very dynamic person on site. Now, that dynamism has migrated into the daring concepts of my wat­c­hes. So, my life was never dull or unengaging.
Business or passion?
Passion! It's a passion with a secondary emphasis on business. Of course, I never neglect the business side, I deal with both at the same time, without letting one have a negative influence on the other. The interesting fact is that what is happening now is a consequence of what I do. Both business and passion.
What watch brand inspires you?
I am not inspired by brands or watch models. I just like them. However, I do get inspired by nature, history, philosophy, etc.. But the ideas for various themes mostly come from my customers. Of course, I run those ideas through my own filter. Most importantly, the final product should be an act of artistic creation, its concept and execution should result in a work of high artistic quality.
If you had an unlimited budget, which watch would you buy?
I would build it, rather than buy it. How do you think I got into watchmaking? I saw their beauty and I wanted to try to create such beauty myself. It's like listening someone playing the piano. You like it so much that you suddenly feel a strong desire to learn how to play. It starts to make a difference when you begin taking piano lessons and you really see your dream come true. That is it, nothing more!
What watch do you wear?
I wear different watches. I don't have one favorite. One of them is dedicated to Jules Verne (Twenty Thousand Leagues Under the Sea), another has a Greek theme. Even so, I would like to build myself a new one, but I can't decide what to choose. I like stone-dial watches, I also like those inspired by astronomy and space. Difficult decision! You might say that I could build anything and more than just one, right? But it's not quite like that, because I would like to have a favorite. Perhaps one inspired by mythology or ancient history would work for now, while a totally different theme would be fitting in five years' time.
What is the single most important development since watch mechanisms were invented?
I believe it should be the dial, the watch face. It's just like having a car engine fitted inside a body. That's when it becomes a car, and the same is valid for a watch. Before that, we can only talk about engineering, nuts and bolts.
What makes your watches different?
This is a question for my customers, and I believe their answers would be different. What would be common ground, though, is the emotional and personal touch that each customer can experience. The story behind every model is different, emotional and complex. Each watch carries both a story and its customer's emption, being a new experience for me too. I was not expecting that and it wasn't planned. I just remember that in the early days I used to encourage myself, thinking that "if the watches are beautiful, they'll sell themselves, without specialized advertising." And I was right, because media now talks about the artist, rather than his art.
What is the target customer for your products?
The stories behind each watch model are atypical, complex and loaded with emption. Each watch carries both a story and customers' emotion, which is also a new experience for myself. I wasn't expecting this and I never planned it. I just remember that in the early days I used to encourage myself, thinking that "if the watches are beautiful, they'll sell themselves, without specialized advertising." And I was right, because media now talks about the artist, rather than his art.
What is the intended customer target?
Educated, refined, intelligent! The customers' refinement and intelligence make me create and produce works of art. I achieve that by resonating with them.
What personalities have you had the pleasure to collaborate with so far?
There are several outstanding individuals and organizations, and I would mention Pope Francis, Sylvester Stallone, the Romanian President, the Royal House, as well as the Patriarch of Jerusalem in the near future, etc..
How far do you plan to go?
Very far. And it's very interesting that I don't have a five- or seven-year business plan. I am more attracted to the idea of innovating in terms of design and finding new methods of using materials. Daring ideas are like a magnet to me.

Augustin Matei studied sacred art at Faculty of Orthodox Theology in Bucharest and he is a graduate of the Tonitza High School. He lives in Pucioasa, where he decorates watches, using techniques such as engraving, painting and sculpture, mirroring their owners' personality. When we spoke with him, he said he aimed to capture the emotion the future wearer of the watch would like to preserve over time.

The interview is also available in our print edition of Business Arena.
COMENTARII:
Fii tu primul care comenteaza