Just like the pen was invented for the story and the bow was invented for the violin, the watch was invented for the most important memories. If we look deeper into things, the watch does not measure time, but rather it measures people's journey through time. Augustin Matei, the only craftsman in Europe making unique watches, is well aware of that. Thousands of euros are involved and orders come from all over the world: Hong Kong, Taiwan and the United States of America. His customer list includes famous names such as Sylvester Stallone.

The sunrise and sunset find him in his workshop, where his customers' stories come back to life. The watchmaker works with two irresistible tools: time and stories. Always different and unique, because, just like a signature, time is unique, and so are customers' values, life experiences, passions, aspirations and actions. Augustin watches have a very distinguished target market, because those who buy them are people who always want something more, more beautiful, more noble. Augistin watches are created to convey some of the passions and personality of the person who wears them. They start as an idea, which later turns into a concept and a shape: a composition, drawing. Augustin watches are unique, because people are unique.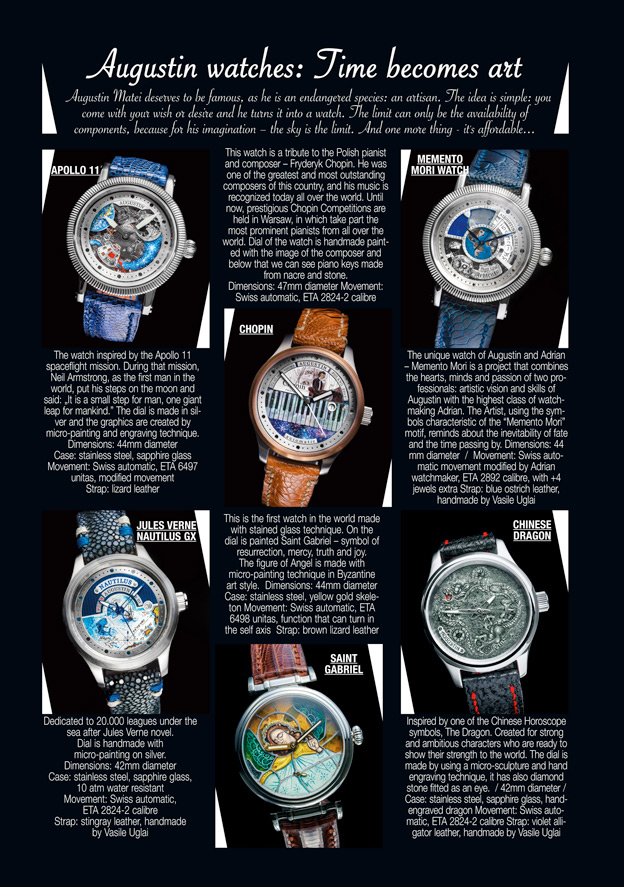 The mechanism is usually automatic, while dials are bought from Germany, where they are made from slate, wood and other materials. The manufacturing process uses different artistic expressions, textures, special colors, precious materials, some of which are very different and unusual: silver, gold, stone, pieces of meteorite, mother-of-pearl, volcanic rock, lunar dust, etc.. Straps are supplied by a Romanian manufacturer, who uses exotic materials: python, alligator, stingray or ostrich leather. Everything is based on personality, history, past and present.

With their handmade dials and personalized design, Augustin Matei's Swiss-mechanism watches tell the story of their wearer. According to Matei, the concept and the design elements reflect key moments of their life or things that are important to them.
"I use different artistic expressions to create a unique touch, like a micro-sculpture, miniature painting, engraving techniques, etc.. And the result of my work is a watch that becomes a piece of art dedicated to you," said Augustin Matei.