Shirts, the secret of a successful outfit

Are you looking for the perfect outfit that truly suits and represents you? Then start by choosing the right shirt. That's where it all begins. Shirts are perhaps some of the most commonly found items in men's wardrobe, however, men don't always know how to pick the right shirt.
The way they fit your body is very important, and if you persist in wearing a shirt that is either too tight or too loose, the rest of your outfit won't matter, because it is going to be completely ruined.
Pay attention to fabric quality and choose shirts made from natural fibers that preserve their flawless look all day, without creasing even when worn under a jacket. The most influential businessmen in the world wear shirts from world's no. 1 Swedish brand, Eton, which is exclusively found in Romania at the Trends by Adina Buzatu store.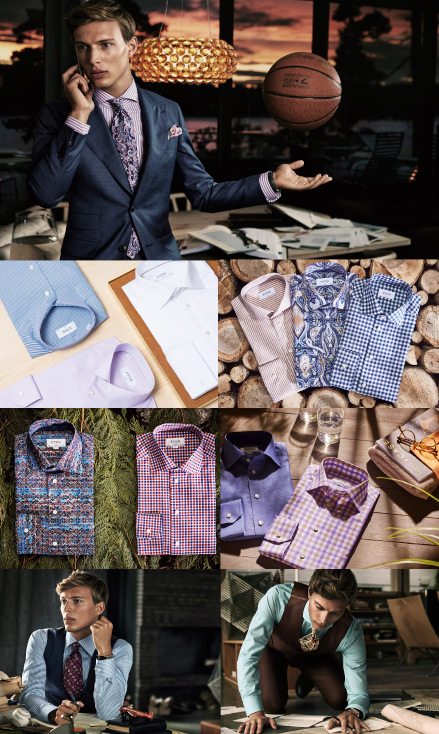 Here are the categories of shirts included in the dictionary of men's fashion:

Classic fit
Several decades ago, men were not in the habit of wearing shirts without a jacket, so shirts had to be mainly comfortable. That is why classic fit shirts have a loose-fitting shape, which is not recommended to slim men.
Slim fit
As the younger generations have changed fashion, wearing a shirt without a jacket has become acceptable, and shirt shapes have adapted to the new requirements. Although they don't offer as much freedom of movement as classic fit shirts, slim fit shirts are more fashionable because there is no excess material. As their name suggests, this type of shirt will best fit a slim person.
Modern/Contemporary fit
This is a very modern type of shirt, combining the two styles: classic fit and slim fit. It gives enough freedom of movement and feels comfortable when worn with or without a jacket. It will suit you well if you have a slim build, but also if you have a more rounded figure.
Super slim fit/ Skinny fit
Mostly chosen by young men, who seem to be driven by the idea that the tighter the better, super slim fit/ skinny fit shirts are generally characterized by a multitude of creases. If you are not a young man with a model-like body, you should avoid this type of shirt completely.
Have a stylish autumn!

COMENTARII:
Fii tu primul care comenteaza