How to build your office wardrobe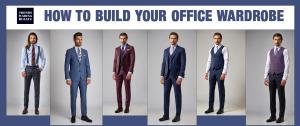 Your office attire should be polished, comfortable and injected with a dose of personality. You might think that it's easy to build an outfit for your every working day, but as a business man, you need to create a mature and stylish look that will inspire self-confidence and trust to your partners.
From colors to fabric, from cut to fit and to all the accessories needed to complete the look, here are a few tips you should take in consideration when building your office wardrobe.
The ideal suit colors

The formal suits colors generally accepted for the office attire are the solid shades of charcoal grey and navy. The charcoal grey one is non-negotiable. When you start creating your office wardrobe, this is the first suit you should buy. The best part with this suit is that it's versatile enough so you can wear it at the office with a light blue shirt and tie, then you can switch to the evening dress code in the same suit but with a white shirt and black shoes. After the navy and grey suits, you can experiment with patterns like plaid, houndstooth or herringbone. And if you want to go even further, in the latest trends, more vibrant colors like burgundy and green or light shades of blue are again on the radar. So you can skip the basics and choose a more daring suit. You can find excellent quality business suits in different colors and prints in TRENDS by Adina Buzatu store.
The fabric

The best suits are those made of wool or a wool-silk blend which is a good option for all seasons. This fabric is full and heavy and it looks good on any type of body. But since it's summer and the high temperatures require more airy fabrics, you can buy a linen suit especially for the hot season. There are brands that create linen suits especially for office attire.
The right cut and fit

In order to accentuate a classic look, choose a single breasted jacket and opt for a notched lapel over the peaked one. And always go for a two button jacket because it's the safest bet to flatter your figure.
In terms of fit, you can go slimmer than ever. Due to the latest trends in suits style, the
slimmer the better. But be careful! This doesn't mean that you need to get into super skinny trousers and jacket. Balance is the key. Your pants should follow your legs line but still make you feel comfortable when sitting down and their hem should sit right at the top of your shoes. The jacket sleeves should end one-half inch above your shirt cuffs and your shoulder seams should not extend beyond your shoulder. In TRENDS by Adina Buzatu store you can get all the advice you need in order to choose the perfect suit for your business look.
The shirt

When it comes to dress shirts, a classic clean cut in white cotton is the perfect choice to complete your office attire. Still, since it's summer and maybe you want to add a bit of color to your formal suit, you can go for light blue, pale pink and lilac. Regarding the fit, choose a shirt in a slim fit, never a version in a large cut. Stay away for those types of shirts with baggy sleeves and cinched cuffs, those with excess of fabric underneath the armpits or those that are very large around the waist. The best thing you can do is to shop your shirt at the same time as your suit, so that you get the entire outfit. If you can't decide on shapes, size or colors, again, you can ask Adina Buzatu to guide you to your best options. Also, you can check the website www.adinabuzatu.ro to see the items before you arrive in the store.
The accessories

Once you have your basic outfit done, it's time to accessorize! First thing first – the tie. You can't get your office look complete without the tie. Since the tie should reflect your personality but, in the same time, it's meant to inject some creativity to your outfit, choose a strong solid shade or prints like classic stripes or in­­teresting florals or paisley. Definitely, stay away from florescent colors or childish patterns.
The pocket square is another essential
accessory to add even more personality to your suit. Choose a printed one but never matched
or in the same fabric of your tie.
Tie bars, lapel pins, cuff links they are all nice accessories that have the power to change your formal suit in a good way. But be careful on how many you use and how you match them. Don't overdo it! Use no more than one or
maximum two accessories per outfit.
The shoes

Last but not least, the shoes that will finish your look are as important as the suit. Since the shoes are the indicator of your style, pay attention on how you choose and match them with the color of your suit. If your suit is navy or charcoal grey, stick with brown leather Oxford shoes. Black double monk-strap shoes are a good option, as well.
Now that you know the basic rules to follow and the items you must buy in order to build the right business wardrobe, visit us in TRENDS by Adina Buzatu store, in Baneasa Shopping City - 42D Bucuresti-Ploiesti Road, ground floor, in order to personalize a complete outfit.
COMENTARII:
Fii tu primul care comenteaza