Profit per kilometer in the automotive industry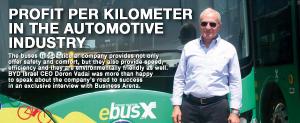 Just ten years ago, people in many cities in Romania used to have very few expectations from the public means of transportation, when they would take a bus rather than walk to their destination. Overall, the vehicle had to be safe and, if possible, less crowded. No one could dream for more. Now, companies like BYD take expectations and innovation in the automotive industry a step further. The buses this particular company provides not only offer safety and comfort, but they also provide speed, efficiency and they are environmentally friendly as well. BYD Israel CEO Doron Vadai was more than happy to speak about the company's road to success in an exclusive interview with Business Arena.
BYD's electric buses operate in more than 200 major cities worldwide, but, for Romania, this is quite a new and revolutionary area. Doron Vadai saw a market that reminded him of his experience back home: "The Romanian market is very similar to the Israeli one, especially when it comes to the acquisition of electric buses, being a tender market. And here we have an unbeatable expertise, as applying for a tender requires specific know-how and experience. We hope that all the electric buses to be purchased in Romania are going to be acquired through public tenders, as we intend to participate in all of them."
It is already a known fact that BYD has tested and operated its e-buses in more than 200 of cities worldwide. Each city receives BYD's electric buses in order to conduct its own program of tests on operational cost-effectiveness and return on investment in the new technology. The test data and financial figures demonstrate the reliability of BYD's electric system, according to the company's officials. BYD is the largest manufacturer and seller of electric cars and buses worldwide, with over 100,000 electric vehicles sold annually. But its work isn't limited to just selling a product. It takes a lot more than that. Doron Vadai explains the process: "The way we manage the new customers translates into key steps. One of these key steps is the personal approach. Once we have sold an electric bus, we also provide assistance to our customers. We organize specialized workshops with customers, as our intention is to teach them how to use the vehicles and make money out of them, to make a profit per kilometer. In the end, we are not just selling buses, but also customized solutions that come with a personalized maintenance and many advantages for the customer."
BYD, with a staff in excess of 220,000 employees, has delivered over 40,000 electric buses worldwide, having a European presence with its production facilities in Hungary and France, and with its busses on the roads in Italy, England, the Netherlands and Israel. According to the company's officials, BYD pioneers in achieving a zero-emissions energy system and has over 20 years' experience in battery R&D and manufacturing.
This means that BYD's battery electric buses can help improve urban air quality and reduce noise. It is a win-win situation for the comfort of both drivers and passengers in their daily commute, as well as for bus fleet operators, the company's representatives said.
Asked if he believed his company could enter a public-private partnership for bus fleet renewal with e-buses in Romania in the near future, the BYD CEO answered without any hesitation: "The biggest challenge would be to convince people that an ebus is the best solution for a clean environment, for their kids, who, basically, directly inhale the polluted air coming from diesel engines. But the reality is more economically anchored. An ebus is a long-term option to save money. Because you have an initial investment and no additional costs later. And this is a good argument for paying for an ebus. However, at this stage, we understand that the funding of the purchase of electric buses comes from the special funding schemes offered by the EU. But, if necessary, we will put in place funding options. As for PPP projects, they require a big change in the way public transportation is handled now."
However, it won't be the first time such projects are developed in this country. An e-bus has been tested for three weeks by RAT Brasov on several urban bus lines, with an operating cost at least three times lower than a diesel bus. "We are planning to bring in a demo unit for similar tests again. It is also in our interest to demonstrate that we have the best solutions when it comes to ebuses," said the CEO, adding that "an ebus is an investment for a better health for your children, a cleaner environment and a cost-efficient solution. The electric bus has zero emissions, so replacing all the diesel/CNG buses with electric buses means reducing public transportation emissions to zero. In many Western cities, reducing pollution is high on the agenda, a top priority for the local authorities. A lot of money is being invested in this area, and Bucharest has now the possibility to save money, protecting the environment at the same time. In a nutshell, the ebus means the present and the future - a modern, clean and quiet device for public transportation."
An electric bus can cost more than 500,000 euro though, depending on specifications. But customers should think of their undeniable advantages, the BYD Israel CEO recommended. "This is an initial investment that will be recovered day by day considering, for example, that we are offering an extended eight-year battery warranty in Romania, meaning that you will not have to replace it during the lifetime of the bus. We are also using our own rear axle with hub motors and offering AC charging, which means less infrastructure to invest in."
BYD offers buses with lengths of 8.7 meters, 10.8 meters, 12 meters, 13-meter coaches, and 18-meter articulated busses. The 12-metre BYD electric bus can cover 250 km on a single charge in urban conditions. BYD electric buses are now in regular service and have been tested in several cities in China, Europe and North America. These busses travelled 8,23 million kilometers combined by the end of July 2012. New Kopel Car Import, a SIXT Group Romania company, became the importer of BYD Electric busses and vehicles on this market. SIXT Group Romania develops a strong after-sales concept, with all the components (parts warehouse, services, task force, etc.) with daily availability. "For SIXT Group Romania, having already operated for 15 years in Romania, this partnership is a strategic one, enabling us to get closer to the future and broaden our range of services. We will develop a long-term partnership with BYD and build sales and after-sales activities to help with the penetration, education, and understanding of the importance of electric transportation solutions in Romania," said Tal Lahav, CEO of SIXT Group Romania, at that time. "I am confident that with BYD's global experience and capabilities, combined with our hands-on achievements and knowledge on the Israeli market, in which we have recently implemented projects for dozens of buses, we will have success in Romania for the development of the local market," said Doron Vadai, when the partnership was launched. He gave Business Arena more details about the company's plans: "Our target for 2018 is to get as many orders as possible, even in small quantities, in order to allow potential customers to get familiar with this new technology. In parallel, we will meet operators in order to share with them the case studies with our experience on other markets. BYD is a company and a concept created to cover the entire world. We intend to get more orders in Israel, were we already have 29 buses in operation and seven more on the way, and participate in all the relevant tenders in Romania."
As a matter of fact, launching the first 17 electric buses in the Israeli city of Haifa was his most memorable experience as a CEO of BYD. But that is not the only achievement that makes Doron Vadai proud. Introducing Hyundai cars, a then-unknown brand on the Israeli market, in the early '90s was a professional success that has stayed with him all these years. He plans to see many more such accomplishments in the near future. "Replacing as many polluting diesel buses as possible with electric buses" represents an ambitious goal that Doron Vadai is on a quest to make a reality. "I like the impact of my work on the whole market, like in our case to make it all cleaner for the benefit of the public," he concludes.
The interview is also available in our print edition of Business Arena.
COMENTARII:
Fii tu primul care comenteaza