Recruitment solutions in a challenging market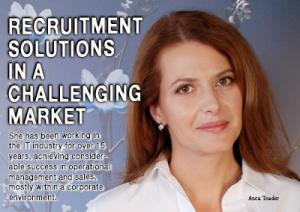 She has been working in the IT industry for over 15 years, achieving considerable success in operational management and sales, mostly within a corporate environment. Her career has evolved through key management roles and now, as director of Experis, a ManpowerGroup brand, Anca Teodor has new challenges and opportunities ahead.
ManpowerGroup is an international leader in innovative workforce solutions. It serves both large and small organizations across all industry sectors through its brands: ManpowerGroup Solutions, Experis, Manpower and Right Management. As for Experis, it offers resourcing and project solutions in information technology, engineering and finance. Anca Teodor joined Experis in 2016, with a mandate to consolidate the brand's position, as European IT resourcing leader, on the Romanian market. In her own words, "in terms of talent, Romania is a challenging market, with 72 percent of employers saying they are encountering difficulties in attracting and retaining candidates for open roles, according to the 2016/2017 Talent Shortage Study carried out by ManpowerGroup. Not surprisingly, IT roles have consistently been in the top 10 hardest to fill positions, whether that role was a junior programmer, a cybersecurity specialist or an IT project manager."
Nevertheless, in the past few years, the entire IT industry has seen growth, both considering domestic expansion through the development of local companies and startups, and also looking at foreign investments with new companies entering the Romanian market. "Even if the number of IT professionals has also increased significantly, the demand remains much higher, thus generating a market pressure that companies using only their internal recruiting capabilities cannot overcome. In addition to an increasingly competitive talent environment, internal recruiting teams are also pressured on their time-to-hire (the duration from opening a position to hiring a candidate), on rapid onboarding and, many times, on volume, when they have to recruit sizable teams. Therefore, HR companies, especially those that can provide range of services and solutions, are an attractive partner," Teodor told Business Arena in an exclusive interview. According to Experis director, the main advantages that human resources companies can bring to the IT segment are specialized consultants, access to a variety of technologies, to larger databases, extended market knowledge and sourcing routes. "Such high level of specialization will create a qualitative pipeline of candidates and answer the timing constraints," she added.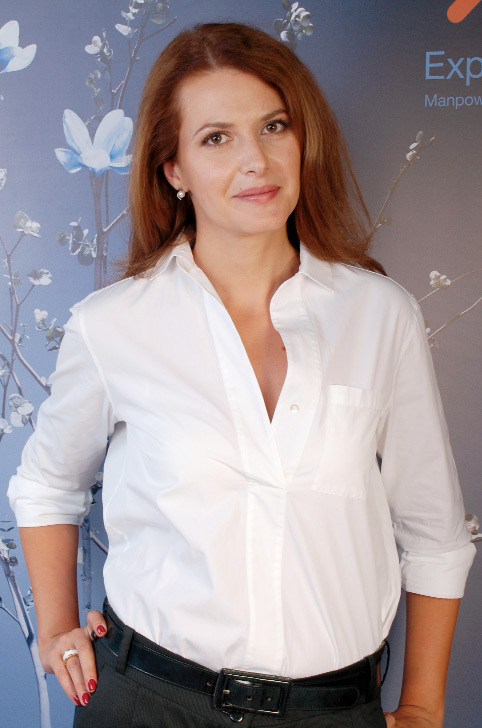 But what are the companies really searching for when it comes to software/IT professionals?
It's rather simple, yet a toilsome process. "Technical capabilities to start with, for all seniority levels. Moving forward, companies are careful in choosing people with the right motivation in order to generate results, but also stability, and a set of soft skills in accordance with company vision and values".
As Anca Teodor explained, the primary characteristic that human resource companies are looking for in a candidate is his or her level of earnestness and reliability, as an indicator of the candidate's engagement in the recruiting process and afterwards in their job. Second, his or her interest, openness and availability to discuss their career perspectives and plans, not just the current opportunity. "Truly professional recruitment companies are trying to create the best match between a candidate and a company, so they really want to understand not only candidate strengths and skills, but also preferences and career plans, so they can accompany the candidate on their career journey, and, if the current opportunity is not suitable, they want to be in a position to know what to recommend for them and how to help them grow. In terms of their readiness to speak in detail about their technical expertise, candidates are still not used to having a highly specialized partner of discussion, and, for that reason, they sometimes provide limited information. Consultants are making efforts to extend the discussion and create a trusting relationship based on mutual respect," the Experis director emphasized.
Selecting the best candidates for a job is challenging for both parties: for the candidate, as well as for the consultant. That's why applying efficient selection criteria is a must and makes a difference for companies struggling to get a higher share on the recruitment market.
"Workforce solutions companies such as ourselves look at a candidate both overall and from the particular project's perspective. Criteria normally include technical skills (job specific or hard skills), experience, foreign language fluency, cultural fit and soft skills, but both the content and type of criteria, and their weighing (which of these criteria is the more important) are adapted to each project. In our practice at Experis, the key element is the match between the set of skills required by the employer and the interest and needs of the candidate. It's worth noting that companies are increasingly looking for ways to assess the candidate's potential for future development, his or her adaptability and desire and motivation to learn (that we call learnability) and are relying upon their recruitment partners to provide such insight, " Teodor explained thoroughly.
During the recruitment process other challenges might come up and slow down the consultants' hard work. It happens when candidates complain about the difficulty of finding a job matching their capabilities and professional experience, as well as about the lack of feedback from employers. Therefore, people might apply chaotically to any announcement posted by a company willing to hire, even if they don't meet the requirements asked by the employer. "We're hearing the same feedback from both sides of the relationship, with hiring companies saying that they have many applicants not matching the job requirements, which of course makes offering timely feedback and responses even more challenging. In the IT world, however, it's quite rare to fill positions using job ads, and that's why a specialized recruiting team is needed. Indeed, often job ad applicants do not match the requirements, but this only happens with junior, occasionally mid-level, candidates, because senior candidates normally don't apply to job ads, and are instead engaged through referral or direct search. To improve, companies should use specialized teams and recruiting solutions, and secure enough capabilities to sustain a good communication, leveraging technology, which can help already and could help even more in the future," said Anca Teodor.
How much does Experis use the networking process in order to recruit the best candidates for firms willing to hire? Again, it depends on the candidate! "The use of networking, both live and on social media, is a frequently quoted recruiter practice, but the need for it and its effectiveness vary depending on the type of candidate and skill set that is being targeted. From a specialized professional resourcing perspective, the networking process can be the most useful tool, both in creating new and valuable connections, sometimes in closed circles and also in the actual recruitment process for a specific project. Maintaining an extended and qualitative network represents a key target for the Experis consultants and enhances their possibility to create the trust and partnerships I have previously mentioned."
As with many market segments in Roma­nia, the recruitment field has its share of difficulties, the lack of quality workforce being a serious issue. According to Anca Teodor, "the main difficulty is the availability of candidates, as demand is higher than supply in many professions, but roles requiring a mix of skills that are not specific to the common candidate profile also pose a challenge. The recruitment process itself is still fairly old-fashioned, emphasizing jobs ads and often employing non-specialized recruitment teams."
On a domestic market that is still evolving when it comes to specialized workforce, the candidate itself has a difficult task of filling in the best position for his skills. What advice would the director of Experis give to IT professionals in search for a job? "A first advice would be for them to analyze a job opportunity correctly, not only from the immediate and purely financial perspective, but also considering long-term development. For junior and middle levels, we would suggest that they should be open-minded and interested in new technologies and even new type of jobs that could help them in developing a solid career. In addition, we would advise them to pay attention to the people they would work with, placing importance on the management and HR levels, but also on their senior colleagues, all of whom can influence and help their future development," said Anca Teodor, who has a Bachelor's degree in Mathematics and holds an MBA from the Warwick Business School in the United Kingdom.
The interview is also available in our print edition of Business Arena.

COMENTARII:
Fii tu primul care comenteaza