Prime Kapital develops 800 residential units in Bucharest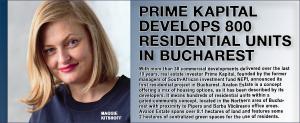 With more than 30 commercial developments delivered over the last 10 years, real estate investor Prime Kapital, founded by the former managers of South-African investment fund NEPI, announced its first residential project in Bucharest. Avalon Estate is a concept offering a mix of housing options, as it has been described by its developers. It means hundreds of residential units within a gated-community concept, located in the Northern area of Bucharest with proximity to Pipera and Barbu Vcrescu office areas. Avalon Estate spans over 8.1 hectares of land and features some 2 hectares of centralized green spaces for the use of residents.
The large-scale residential complex will feature villas, townhouses and apartments. Important features of the project include a Club house, equipped with fitness facility, outdoor pool, restaurant, as well as lake access, 1.3 hectares of park and car-free alleys. The last phase of the project will include commercial areas, as well as a private kindergarten. "Avalon Estate is a gated community concept which offers benefits such as security, low density and low traffic volumes. It also features an opportunity to establish new roots in private village-type setting that offers a mix of housing types that minimize repetitive form from a design point of view. Avalon Estate is the first residential project of Prime Kapital, which opens a new chapter in our group. Our main objective through this new business line is to develop residential compounds based on an integrated approach towards all facets of real estate development," said Maggie Kitshoff, Prime Kapital's Residential Projects Director.
The project will be completed in phases and is self-funded. "The first phase of the project, which comprises of 317 units in four typologies, has been completely designed together with the entire infrastructure, access and landscape projects for the 8.1 ha development. With a planned construction start date by mid-2019, we have obtained the opportunity approval for the entire project and are currently engaging in the public consultation process. Phase 2, which will include another 476 units, a kindergarten and 1,000 square meters of boutique retail spaces, are in the technical design stage. Phase 2 promises a variety of unit options, including apartments, duplexes and mezzanine lofts," said Kitshoff.
The project at large is estimated to be completed within four years of start of construction and will feature 793 villas, townhouses and apartments with an overall estimated completion date of 2024. "Phase 1 will start in mid-2019 and end in the second half of 2021 followed by phase 2 but, depending on the speed of sales, phase 2 may start earlier than that. I need to emphasize that phase 2 will not impact on the quality of life of residents that move into the first project phase. It is obviously our goal to complete the entire project within the shortest timeframe possible without affecting the quality of the project, which remains to be our main focus," explained Prime Kapital's Residential Projects Director for our magazine exclusively.
According to its developers, Avalon Estate was designed after undertaking extensive market research and a two-year design process, and targets primarily young families, couples and professionals that work in the Northern area of Bucharest. The phase one homes range between 70 and 262 square meters of living area. Prime Kapital worked with ADN architects for designing what they call "a residential project that is breathable, community-centered and with aesthetics inspired by a modernist approach. The Pipera Lake shores will be enhaced and will receive increased care to better serve the community. Avalon Estate's landscape design ensures that rainwater is collected and biologically purified through a harvesting system before it is deposited back into the lake." The concept also includes exterior living spaces for all unit types, meaning that the villas will receive front and back outdoor spaces and apartments receive terraces and gardens. Still, what makes Avalon Estate different from all the other residential projects existing on the domestic market? "I would rather describe Avalon Estate as an alternative to other projects in the city. Few projects offer large green spaces in a low height regime and low-density development. Our aim was not to optimize the PUZ density coefficients, but rather to develop a project that offers real value for money," said Kitshoff.
It seems like a development process which went pretty smooth from day one. The developers insist there were challenges and difficulties as well. "In my view the main difficulties relate to the slow process of zoning and permitting. A second factor is the shortage of proper utility and roads infrastructure. I really believe that the success of quality developments is dependent on a partnership with the authorities to find joint solutions that ensures fast, effective and clear processes that deliver sustainable and quality solutions to the benefit of all the stakeholders. With this said, it is now more important than ever for developers to focus on quality details and spaces with proper plans that address issues such as infrastructure, rainwater disposal, access, maintenance and so on."
Developing this project is joint team-effort. "We are an integrated team at Prime Kapital, consisting of 100 real estate professionals. Due to the intricacies of our projects, it is difficult to state which portion of our team is assigned to residential as it is our culture to be involved and share our experience meaning that almost every individual in the larger team is making a contribution towards the project at some point. I will therefore only focus my number on the 10 individuals that are dedicated to the residential projects, myself included." Along with her team, Maggie Kitshoff aims to see the company grow as a powerful, influential player. "Our objective is to establish Prime Kapital as the residential developer of choice in Romania, to change the current landscape, perception of residential project developments and raise the standards on the market. Our focus is for the moment predominately on the large cities, mainly Bucharest and all the secondary cities. We are always investigating new opportunities and will announce other developments in due course," added Kitshoff. To establish a recognizable brand in the residential market is first and foremost her professional goal. "This means that we will continue to grow our pipeline with large scale projects and grow our team with strong individuals," she disclosed some of her future targets.
She has full trust in the evolution of Romanian real estate and is determined to make the company an active player here for a very long time. "The current market has growth indicators for developing quality and affordable residential units and we believe this will not change over the next three years. Consumers have already started to demand for better alternatives; and this will continue to boost a demand for quality residential projects."
So far, Prime Kapital focused primarily on retail and residential segments in Central and Eastern Europe. According to data reported in the media, Prime Kapital raised in the beginning of March 2016, capital in excess of 260 million euro. Its portfolio includes income properties, such as Nova Park in Gorzow, Poland, Stara Zagora and Burgas Galleries in Bulgaria, as well as mall projects in Iasi, Pitesti, Targoviste and Ploiesti.
The interview is also available in our print edition of Business Arena.
COMENTARII:
Fii tu primul care comenteaza