Personal Banking services - an innovative, flourishing new segment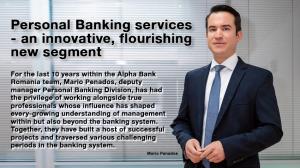 For the last 10 years within the Alpha Bank Romania team, Mario Penados, deputy manager Personal Banking Division, has had the privilege of working alongside true professionals whose influence has shaped every-growing understanding of management within but also beyond the banking system. Together, they have built a host of successful projects and traversed various challenging periods in the banking system. He joined the Alpha Bank in 2007 with the mandate to lead the Bank's initiative to claim presence in the then-nascent mutual funds industry. Benefiting from EU membership that same year, Romania joined the borderless financial services geography, and Alpha Group saw the opportunity to passport a selection of 10 mutual funds managed by Alpha Asset Management AEDAK. During the period when the mutual fund business began to gain traction, he took active roles-of various degrees of involvement and management-in several projects with numerous, multi-disciplinary dimensions, as the business-oriented initiatives for centering the Bank's products and services on a customer-centric, customer-experience model. As a result, the Bank's first personal banking business line came into being: Prime Banking, which, together the various supporting divisions involved, he took from pilot to expansion, covering all major regions in Romania. The organizational transformation that the Bank underwent regarding segment-based strategy, processes, costs and revenues, etc., paved the way for the biggest challenge of his career. A decade of hard work has culminated with the launching of the Group's upgraded concept of personal banking services, Alpha Gold Personal Banking, which he led with utmost dedication and perseverance. It was also at this time that he marked another important milestone in his life: the transition from expat to local-fully local. His academic background (and for-life passion) in the international political economy and first-hand living and working experience in Romania, with its politics, economy, society and language, have equipped him with the skills to expand further his career in the banking industry here.
What services and products are being offered as part of Alpha Bank's Alpha Gold Personal Banking package, and how are they different from other similar products and services in the market?
As competition in the affluent customer segment intensifies year on year, so too do we strive to exceed our customers' expectations. To do so, we've implemented a personalized product configuration, dedicated pricing and processing, Gold Telephone Line with automatic number recognition, and other benefits. At the core of the Gold Personal Banking business line, however, is the Gold Relationship Manager, a seasoned banking professional who is entrusted to build the partnership between Bank and customer. Moreover, Gold customers can find the right solutions to their banking needs in the comfort and confidentiality that our separate Gold offices bring in the more than 20 Gold branches throughout Romania.
How would you characterize the level of competition in the Romanian banking sector in general and in the personal banking segment in particular?
Although innovation in technology is the leading driver of competition in the banking industry, there are other factors that keep the Romanian banking system quite dynamic in terms of choices for customers, such as personalized solutions (loans, savings or investments), cross-segment synergies between companies and individuals, and the human component of relationships and networks. These factors are especially important in the personal banking segment, which, as official statistics remind us yearly, is growing faster than the rest (the number of accounts with more than €100.000 has doubled in the last 5-6 years, with the value of those accounts increasing the overall share of deposits). Recent economic growth has accelerated the convergence to EU averages across mostly all indicators, and the affluent customer segment has generally over-performed.
How was the new personal banking concept received by customers?
For a significant part of our Gold customers, the launch of the Gold Personal Banking meant an upgrade that triggered increased balances/product usage. Since launching one year ago, we have reached a considerable number of new customers in the portfolio and proudly contributed to the Bank's net growth in 2018. As we continue to strengthen our Brand with new products, services, and benefits, our goal is to keep the momentum of our customer engagement on an upward slope, raising the bar and meeting their expectations.
What are your main professional objectives for 2019?
Create genuine value for our customers, shareholders, and team members. Success with all three stakeholders is the optimal expression of a competitive business line and it is my chief objective to deliver it.
What are your favorite activities outside work?
Since my arrival in Romania in 2005, my favorite activities have revolved around traveling in the country—be it with family and friends, or, certainly, for work as well. From nature to city streets, from mountains to sea, from local traditions to innovations, from new customer to new friendly acquaintances, Romania offers countless opportunities with new experiences for the senses and mind alike.
The interview is also available in our print edition of Business Arena.
COMENTARII:
Fii tu primul care comenteaza