Lawyer for human rights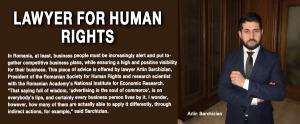 In Romania, at least, business people must be increasingly alert and put together competitive business plans, while ensuring a high and positive visibility for their business. This piece of advice is offered by lawyer Artin Sarchizian, President of the Romanian Society for Human Rights and research scientist with the Romanian Academy's National Institute for Economic Research. "That saying full of wisdom, 'advertising is the soul of commerce', is on everybody's lips, and certainly every business person lives by it. I wonder, however, how many of them are actually able to apply it differently, through indirect actions, for example," said Sarchizian.
Moreover, for those who want to start a business Sarchizian has an important suggestion: "Be as close as possible to the people." He points out that Romanian companies do not excel in that area and explains: "We do not have soul-inspiring companies, popular with the public, whose actions stimulate Roma­nians' emotions and sensitivity." He emphasizes that, in other countries, people are loyal to certain companies, even though they are not fully convinced by their products or services.
Companies can get involved in social projects, giving back some of the revenues they make within the local community. However, people are lacking trust, the lawyer points out. "We have become more and more suspicious and reserved. There are few examples of companies thinking about the community, and we have come to see them as unusual, suspecting them of something," he said.
However, Sarchizian relies on the fact that those companies' managers will intensify such activities, and if they become a constant occurrence, suspicions will go away, being replaced by respect and appreciation. "A company virtually becomes one of our fellow citizens, whom we evaluate based on their own deeds, and with whom we become close. This is the result all business owners would like to achieve," he said.
The President of the Romanian Society for Human Rights declares himself a "fan" of the corporate social responsibility concept and believes that it can be successfully implemented in Romania in such a way that it can create that bond between companies and consumers. "The future belongs to those who understand that in a normal society fairness is at the core of all things. It's ok to want to make profit, but be fair and return some of what you've gained. Sure enough, tomorrow you will gain even more, because people will know that part of that profit will indirectly be returned to them," he said.
He also touched upon the difficulties facing those who open a new business. "The fiscal area has been grappling with an avalanche of regulations and even interpretations of the law that are not normal. The fiscal segment requires regulatory clarity and uniformity in interpretation." While emphasizing that the spirit of law should also be observed, not just its letter, Sarchizian believes that, in this context, new entrepreneurs need constant fiscal and legal counseling for a smooth-running business.
As for the new data protection regulations, stipulating that, staring May 25, 2018, companies must appoint data protection officers, Sarchizian hopes those new jobs are not going to be simply formal positions. "We have yet to acknowledge the existence of those individual rights and our obligation to protect them. For example, my telephone number is considered personal data. We even have a recent case in which a divorce decree is considered personal data, and its use or disclosure is restricted. Those elements come under the concept of individual privacy and should be respected as such," he said.
If he were to define human rights, he fears that he would probably end up restricting them: "I would categorize them under certain concepts, and I am afraid that such a move would obstruct and block their evolution. Human rights represent everyone's freedom to do what they like as long as they don't harm others, to be free of interference, unjust and unfair limitations," said Sarchizian, and added: "We have come to rely on the idea that the law stipulates that you have the right to something or allows you to do something. But things should be looked at from a totally different perspective: does the law forbid certain actions? What is not forbidden is allowed, that is the golden rule."
He also speaks of a lack of personal accountability in justice, as judges hide themselves behind institutions. "Why should I say that a certain sentence was passed by the Court of Appeal, when, in fact, it was passed by a particular judge?" In addition, Sarchizian believes there should be more ways of appealing a sentence, emphasizing that society can only afford to reduce the number of appeal rights when the judicial system enjoys a high degree of public confidence. "A mistake in not dangerous. It is dangerous not to have ways of addressing mistakes when you see one. Without such tools, confidence stays low. It's no use having a perfect law, if I do not trust those who enforce it. This is a dangerous phenomenon, affecting the rule of law." He goes on noting that, today, laws are interpreted in technical terms and enforced as such, while the system needs to focus on training young judges to work for the betterment of society, to rely on fairness and not just on the letter of the law, which can be too rigid and narrow. "Judges should know the society, they should be more mature and have life experience," said Sarchizian.
In the future, Sarchizian hopes to launch his pet project on the deterministic view of criminal responsibility. While people nowadays are convicted and sent to jail based on the free will theory, he argues that, several years ago, Oxford University researchers put forward a theory stipulating that there is determinism in neurobiological behavior. Under that theory, there is a region in the brain that is responsible for people's moral behavior. He would like to get involved in that research project together with a group of experts, because a specialized center and clinical studies would revolutionize the penal system, he added.
The interview is also available in our print edition of Business Arena.
COMENTARII:
Fii tu primul care comenteaza