Idea::Bank relies on fresh ideas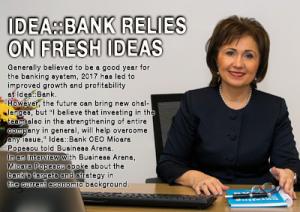 Generally believed to be a good year for the banking system, 2017 has led to improved growth and profitability at Idea::Bank. However, the future can bring new challenges, but "I believe that investing in the team also in the strengthening of entire company in general, will help overcome any issue," Idea::Bank CEO Mioara Popescu told Business Arena. In an interview with Business Arena, Mioara Popescu spoke about the bank's targets and strategy in the current economic background.
What are Idea::Bank's main achievements this year, and what are its objectives for the end of 2017?
Our main objectives this year have been centered on healthy organic growth, profitability and strengthening our customer base. And the bank's nine-month results reflected our efforts, with assets gaining 14 percent and loans soaring 21 percent, as we focused on both individuals and SMEs. With the help of our 34 branches and our partners, we granted over 9,900 consumer loans to individuals, with Idea::selfie loan remaining particularly attractive and serving our customers' needs.
Deposits followed a similar trend, the loan-to-deposit ratio remaining in the region of 75 percent. As for taxes and contributions to the state budget, paid by the bank in its own name and on behalf of its employees and customers, from the launch of the Idea::Bank brand three years ago until end-September 2017, they amounted to 41.9 million lei, of which 13.8 million lei was paid for the first nine months of this year. The non-performing loan rate is below market average, standing at 3.8 percent, but, as expected, the increase in loan volume brought about a 22 percent hike in loan provisions. In terms of profitability, I believe the only relevant indicator is the net profit generated in the first nine months, which was more than double the value of the 2016 net profit.
Those results were made possible by our great customer service, as we provide products and services catering to our customers' ever-growing needs. The added value was created by the entire Idea::Bank team, with shareholder support and a good cooperation with our partners.
The positive results recorded in the first three quarters come to support our year-end forecasts, which means that we've made an accurate planning of operations. However, we should not overlook factors such as legislative and fiscal predictability, which can have an impact on any business sector in Romania.
In figures, for end-2017, we target an asset volume of 1.8 billion lei, which would account for a 19 percent increase compared to the same period last year. We also aim to reach a 17 percent increase in deposits to 1.56 billion lei, while our loans are also expected to grow to preserve a loan-to-deposit ratio of around 75 - 78 percent. Our cost-to-income ratio should reach around 75 percent compared to 92 percent at the end of last year, while our return on equity is estimated at between five and six percent, a result which we want to further improve, even though it is higher than last year's level.
This year we have also launched and developed new projects dedicated to upgrading our IT system, digitization, innovation and continuing the process of standardization and/or relocation of branches. Our branch network still requires investment, because a total elimination of human interaction between customer and the bank will not be possible in the near future. We have also strengthened our management team, with new members promoted from our organization, based on their professional experience, competence, ethics, and accountability.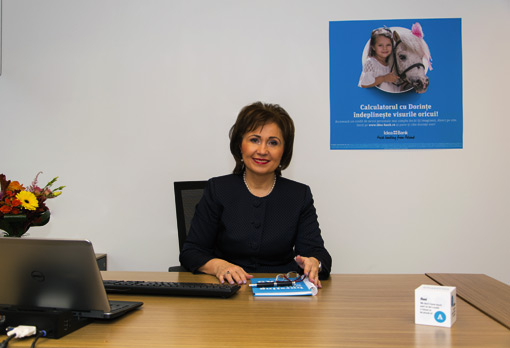 How would you characterize 2017 from the banking system's point of view? What are the positive and the negative aspects that the market has experienced this year?
According to the central bank's statistics, 2017 seems to be a good year for the banking system in terms of financial performance, declining non-performing loan volumes and prudential indicators, but we must be very careful about certain medium-term tensions and risks to macro-financial stability. Loan demand has increased, especially consumer loans, and the process has been supported by excess liquidity and strong market competition.
Starting the end of September, Romania's macro-economic and legislative environment has generated an increase in the ROBOR rate and a depreciation of the national currency, which can lead to a loss of confidence in the banking system. This is a major challenge, because without a certain degree of confidence it is very difficult for the banking system to play its part in the society. The banking system's role is to support development, as the main source of financing for Romania's economy, to increase financial intermediation (one of the lowest in Europe), simply put, to be a real engine for the economy, a mechanism that works, fueled by confidence and a real financial education for the population.
It has been claimed that there are too many banks in Romania.
To what extent would you agree with such an opinion nowadays? Would you expect new transactions (take­o­­vers, mergers) in the near future?
Personally, I believe we are going to see more consolidation in the Romanian banking market, which is confirmed by the existence of several banks currently involved in sale or merger talks. We shouldn't forget about potential banking system consolidation through portfolio sale-offs. I also strongly believe that every bank can find its niche, and there is enough space for development. Getin Holding Group, which Idea::Bank belongs to, considers Romania to be a market offering opportunities for sustainable organic growth and investment.
What are your expectations regarding the prospects of Romania's economy in 2018, and what new opportunities could arise for the future operations of your bank?
I am an optimist by nature, but we don't have legislative and fiscal predictability to discuss real opportunities, as legislative and fiscal changes generate both immediate and long-term effects. The recent information released by the central bank suggests that the national currency is going to fluctuate freely, as the monetary policy shifts from expansionary to restrictive. Last week, the central bank narrowed the deposit/lending facility symmetrical corridor by 0.5 percent to preface the monetary policy moves expected in the near future, and involving a gradual increase in the key interest rate from 1.75 percent to two percent and perhaps to 2.25 percent in the second half of next year.
Romania's economic data shows an impressive third quarter growth of 8.8 percent year-on-year and 2.6 percent compared to the previous quarter, which was mainly fueled by consumption. At the same time, we see a sizeable increase in the country's current account deficit, amounting to 4.2 billion euro over January – September, up from 2.8 billion euro in the same year-ago period. October inflation reached 1.3 percent month-on-month and 2.6 percent year-on-year, compared to 1.8 percent year-on-year in September. The central bank has revised up the 2017 inflation target to 2.7 per cent from 1.9, and maintained the 2018 inflation target at 3.2 percent.
These trends have triggered a depreciation of the national currency against the euro from 4.6 to 4.65 lei/euro (around one percent), amid volatility on the monetary market, while short-term interest rates fluctuate between 1.1 and 2.5 percent.
In other words, banking sector challenges are on the rise, and, in this context, Idea:: Bank's 2018 objectives focus on digitalization, continued improvement of services, products and sales channels, securing sound lending procedures, and implementing IFRS 9 and European directives, which I'm sure are already using up a lot of resources in every organization.
As I mentioned earlier, the face-to-face interaction between banks and customers is not going to be eliminated any time soon, but I am sure that the role of bank branches is going to change in the digital age. For that very reason, one of next year's strategic priorities focuses on that transformation.
What makes Romania's market different from other markets in the region?
I would like to talk about a few aspects regarding the Polish banking and business markets, because it is always a good idea to focus on topics that we are permanently in contact with. The Polish business market has already reached maturity, being now the strongest eastern European economy. Poland is already experimenting and has developed many instruments that allow it to be innovative and dynamic, and, of course, those trends make their way into banking too. Innovation and innovative solutions allow them to move fast when business opportunities arise, and digitalization, its orientation towards productivity and efficiency, the active involvement of the public sector in the innovation process, make Poland's economy a model that is worth menti­oning and studying. I see a major cooperation and co-creation potential in the field of innovation and information technology.
One example that I would like to mention here refers to Idea::Bank's initiative in Warsaw to introduce a fleet of cars with cash machines fitted on board. Based on a Uber-like system, they go to entrepreneurs, who want to deposit their cash, saving them a trip to the bank. For us, it is an advantage to be part of a Polish group and benefit from this know-how that allows us to bring Fresh banking from Poland.
What elements can give Idea::Bank a competitive advantage in the current context in the banking market?
For nearly three years, Idea::Bank has kept its commitment to deliver simple, fresh and flexible solutions on the local market, and respond in real time to increasingly diverse and sophisticated customer needs. Our above-market-average growth in areas such as lending and deposits proves the quality of our solutions offered to customers. For example, we saw a 6.4 percent lending increase at the end of third quarter, compared to the previous quarter, while the market posted an average growth of 1.46 percent over the same period.
All those positive results are largely the outcome of a direct and transparent communication strategy, both among the members of Idea::Bank's team and in our relations with business partners and customers, but we still have a lot more work ahead of us.
What new products and services have you offered your customers this year?
Our 2017 strategy has involved the launch of diversified products and services, as we focus both on existing and prospective customers, individuals and SMEs. Relying on flexibility and simplifying access to banking solutions, we have automated processes, allowing us to provide on-the-spot feedback to a large number of loan applications. Here, I would like to mention acalculatorulcudorinte, an online application facilitating a simplified and quick access to our most attractive lending product for individuals, the Idea::selfie.
What strategy is Idea::Bank relying on in developing its operations in this market? What are its medium-term growth targets?
Idea::Bank backs the development of its own employees and their professional performance. Within the group, employees are encouraged to improve their professional skills and competences, supporting their empowerment and consolidation of a sound organizational culture, based on professional expertise, knowledge and sharing.
The bank targets customers with an adequate financial-economic potential, looking for services that are fast, simple, easy to understand and use, flexible and tailor-made. At the same time, we cater for other categories of customers, with lower incomes, offering products and services that are adapted to their needs, being aware of the importance of responsible financing within the community. However, we do not encourage the so-called debt non-payment culture, which seems to be a very dangerous approach.
So, the bank's main objective over the coming period is to increase the efficiency of its operations through a constant improvement of relations with existing customers, through product and service quality, and through its care for employees and their training.
Among our short-term growth targets, we could mention a sound increase in assets, correlated with an increase in loan volumes and resources attracted from customers, which is needed to support the planned lending activity and maintain an adequate loan-to-deposit ratio. We also aim to develop profitable operations, focusing on improving net commercial margins, yield ratios and cost efficiency.
What are your professional objectives for 2018?
As 2017 is coming to an end, I can say that I have achieved most of my professional objectives outlined at the beginning of the year, and I could mention securing a responsible lending policy, consolidating our customer base and real partnerships, increasing the importance of our front office.
We are about to launch the online deposit, a mini internet banking service, which is going to simplify the process of opening a deposit account, creating added value for our customers, as they can save one of the most important resources, which is their time.
My 2018 agenda is going to include several professional activities that are close to my heart. So, I intend to allocate time for mentoring several young women, who I believe, are going to make outstanding careers in banking and finance and in the area of women's leadership. It is important for me to repay the gifts of time, dedication and inspiration that I have received all my life, offering the same treatment to the younger generation.
Financial education is another aspect that has been constantly included on the agenda, and I am going to talk about the role and importance of financial education, responsible lending, and I am going to be actively involved in implementing projects aimed at helping business and the population every time I get the chance.
Another top-priority on my agenda is our front office staff, who are the main link in our organization's relation with customers.
The interview is also available in our print edition of Business Arena.

COMENTARII:
Fii tu primul care comenteaza