Great Romanian painters at the Royal Palace in Lisbon

The General Directorate of Portuguese Heritage, the Romanian Cultural Institute in Lisbon, and the Bonte Foundation present the Romanian Modern Painting Exhibition (1875-1945) at the National Palace of Ajuda, Lisbon, between May 12 and August 30.
The Bonte Collection is a genuine Romanian modern art gallery, bringing together works by some of the leading artists of the nineteenth and twentieth centuries: Nicolae Grigorescu, Gheorghe Petrașcu, Adam Bălțatu, Camil Ressu, Iosif Iser, Theodor Pallady, Nicolae Dărăscu, Francisc Șirato, Alexandru
Ciucurencu
, Nicolae Vermont, Vasile Popescu, Hippolytus Strambu, Kimon Login, Arthur Verona, Dimitrescu Stephen, Stephen Smith, Leo. Biju, Theodorescu Sion, Samuel Mützner, Rodica Maniu, Magdalena Rădulescu, Constantin Isachie, Dumitru Ghiaţă, Rudolf Schweitzer-Cumpăna, Jean Cheller.
The selection of works is not only a true sample of the collector's passion, but it is ultimately a sign of rare devotion to a cultural cause and deep faith – based on professional arguments - that the Romanian fine arts deserve to be properly known across national borders as well.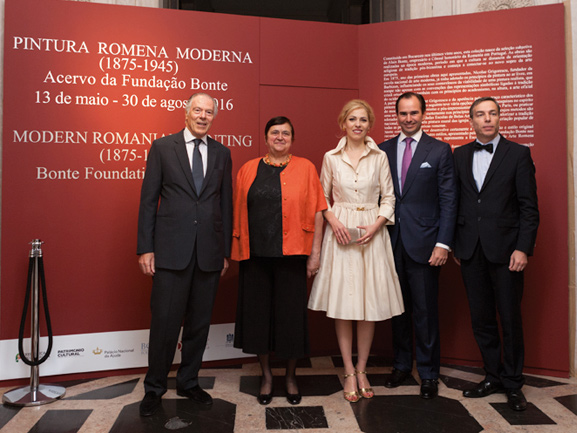 Alain Bonte, Doina Pauleanu, Marina Coanda Bundac, Antonio Beja,
Alain Bonte, the Honorary Consul of Romania in Portugal and a business man, discovered modern Romanian paintings by closely prospecting modern art museums, galleries and collections. Meanwhile, his familiarity with the Romanian plastic arts proved to be the basis of an impressive collection of paintings, which today forms the backdrop of the Bonte Foundation
.
A connoisseur of European art, endowed with intuition and precious taste, a distinguished diplomat and businessman, Bonte investigates and finds artists that spark interest, makes connections and inferences, understands lineages and manages to bring together a representative collection of the great currents that marked the Romanian painting of the late nineteenth century up to the years leading up to the communist regime.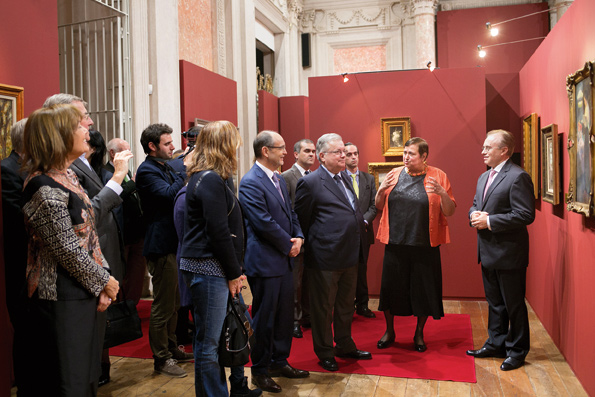 Highly familiar with the collection, the Romanian Cultural Institute and the Romanian Embassy in Portugal decided to capitalize on its merits and value. A new dimension has been added to the collection with the involvement of the Ajuda National Palace in Lisbon, a top Portuguese cultural institution, located in the tourist circuit. Former residence of the kings of Portugal, the Ajuda National Palace is now home to a museum, a huge library and to the Portuguese Ministry of Culture.
The museum will host the paintings in the Bonte Collection until August 31, 2016, presenting the visitors an eloquent moment of the maximum flowering of the Romanian culture.
Several government representatives and officials took the floor and emphasized the importance of this cultural diplomacy event during the formal opening in Lisbon. The list of guests included: Mr. Adrian Curaj, the Romanian Minister of Education and Research, Mr. Luis Filipe Castro Mendes, Portugal's Minister of Culture, Mr. Vasile Popovici, the Ambassador of Romania to Portugal, Radu Boroianu, President of the Romanian Cultural Institute.
Great Romanian painters at the Royal Palace in Lisbon

https://www.youtube.com/watch?v=6PYXT9J8qw8


Modern Romanian Painting Exhibition (1875-1945). Bonte Foundation Collection

https://www.youtube.com/watch?v=VRsSOiq6L2k
COMENTARII:
Fii tu primul care comenteaza