Enhancing human potential on a competitive HR market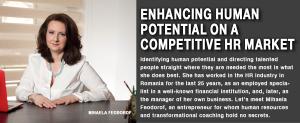 Identifying human potential and directing talented people straight where they are needed the most is what she does best. She has worked in the HR industry in Romania for the last 25 years, as an employed specialist in a well-known financial institution, and, later, as the manager of her own business. Let's meet Mihaela Feodorof, an entrepreneur for whom human resources and transformational coaching hold no secrets.
For 16 years, she gathered experience as a Human Resources manager at BRD, where she coordinated the recruitment team, covering a surprising volume of over 6,500 new employments within the company. She was in charge of talent management at BRD for five years, implementing the first human resources internal consultancy system for the financial institution. During this time, she created various programs targeting young people who showed developing potential and performed well in the market. The major change came eight years ago, when she saw a tremendous opportunity in entrepreneurship. That's how Yourway Life & Career Counseling was created, as a company which covers two main business segments. The one called Performanceway addresses companies, as well as business leaders. That segment of the company specializes in business consulting services, as well executive and transformational coaching. "This part of our activity has brought new elements in the executive coaching and corporate consultancy area, meaning reorganizing a structure in keeping with the potential of the key-people within a specific company," she told Business Arena.
The other segment of the company's activity is Yourway, offering counseling services to students of different ages, who wish to develop their professional abilities in line with the field in which they intend to build a career. She believes in the potential of Romanian young people, so Mihaela Feodorof enthusiastically invested in this line of business, which aims to identify and develop the potential of preschool children (aged 3 to 7), of school children up to 14 years of age, and of high-school students, who are over 14 years old. Strongly believing in this aspect of her activity, she came up with an idea which had never been put into practice in Romania before: the first leadership project in the educational field, developed in partnership with Transylvania College. "The idea of giving life to a space in which the main mission is discovering and developing human potential came naturally after 16 years in which I worked for the benefit of thousands of employees within the same company. I only added a pioneering line to this idea, which came in the shape of Yourway, a business line which works for the benefit of young children."
Businesswise, Mihaela Feodorof is an expert in transformational leadership. She explained to us what that really means: "Transformational leadership is about changing the mentality of those people in the top management of a company, in order to reposition that particular business within the industry or market in which it activates, making a difference and getting better results. In the current business environment, which is so competitive, transformational leadership has become a must."
How did she get experience in that field? Firstly, she gathered some serious knowledge learning from the best experts out there. So, she graduated from Sir John Whitmore's Performance Consultants International school in London. After this step, the experience process started. Now she is in charge of an ongrowing company. "With Performanceway we support the growth of organizations through the potential of their employees, we redraw the structures assigning the most fitted roles to the members of their team. For instance, with Yourway, our business line dedicated to young students, we are just acting as professional career architects. Depending on the child's age, we identify the proper platform for his or her development, the way he or she is learning in harmony with his or her needs, what are the child's attributes and which professional domains attract him the most. All these fulfilled conditions ensure a high level of satisfaction and performance for the young person."
When it comes to her own investment plans, although refraining from disclosing a particular amount, Mihaela Feodorof admits she is investing permanently in the Yourway business line, by acquiring new licenses and developing the services and products offered to clients. Nevertheless, the development of those people working with the children and their families is an ongoing process. "The investments are also channeled into extending our partnerships and offering our services at a national level. As for the Performanceway business line, the investments are all about offering access to more and more solutions and certifications, working tools, as well as developing new services dedicated to the market, such as workshops," Feodorof said.
In its eight years of operations, Yourway Life & Career Counseling has worked for domestic organizations as well as for multinationals in various industries, from the banking and financial sectors to production, services, IT and educational projects. "We have eight specialists that assist the technology, PR and Communication needs, and especially the psychology of the child and their family. The size of our projects is given by their amplitude and impact on our clients. One of our most important projects is the one developed with Petrom, as we evaluated the capacity of 200 teenagers in one month. When I mention the projects that we have developed for various organizations, I think of their dimension rather than the value of the contract. When you are working on a C level, meaning with people who are part of a company's board, the changes in mindset and behavior manifested by these people are cascaded in the life of the organization and in the results obtained by each team member."
Feodorof continues with a confession as she goes deeper into explaining how her company helped change the face of many companies and institutions in Romania. "Our services are indeed on the niche side. The ones targeting children also target the families involved in shaping their personality, who are consciously looking for proper and sustainable solutions during the emotional journey of their children. When talking about the segment targeting professional adults, whether they access our services individually or become our clients along with their office colleagues, as part of a team, we have identified two characteristics. All that these people want is to progress, to identify the proper context for their development and to perform well. And when I mention performance, I am also considering a fulfilled personal life. It has to be the right balance."
The executive coaching services within the Performanceway segment are most favored by clients, she says. As for the Yourway business line, the evaluation services are the ones most sought after - meaning the purchase of a services package, as well as projects developed with more than 20 children in schools or colleges, outside Bucharest. Some of these projects are financially sustained by companies which understand the benefit of evaluation services for children.
Over the recent years, the company's turnover has increased steadily, according to Feodorof. "One thing which is more important to me though is observing the dynamics of revenues between the two business lines. If in its early years, Yourway was perceived as an activity which sustained itself, being already established on the market, in the last three years, balancing the revenues between the two business lines has helped us plan expanding our services nationwide. Another satisfaction is that, with us, the clients have become more open to concepts such as "potential," Feodorof added. "For instance, hundreds of children are evaluated yearly by our experts, subsequently becoming more aware of their abilities, positive aspects, as well as of their academic and professional options in their future life as adults. Schools are our partners as well as our beneficiaries. Any adult who receives the information from our evaluation reports can guide and support the evaluated child in a more efficient way. The families as well as the teachers are most interested in these tips & tricks. It's like a good practices notebook for adults involved in the development processes."
As a close observer of children's learning processes in Romania, she can make an assessment of the evolution of Romania's education system. "The education system in this country can be improved. Everyone working on this project should have a vision and a continuity in his or her actions, otherwise the education system is going to be like an incurable sick person treated with medicines which have a temporary effect. The strengthening of the Romanian system is up to its people. I would definitely apply selection instruments similar to those used in companies. Firstly, I would permanently give full support to the teacher, not only financially, but also facilitating their self-improvement in such a way that can benefit the children they work with," explained the owner of Yourway Life & Career Counseling.
Competition can be tough in her business segment, but Mihaela Feodorof is fearless. She says the quality of the services and the tailor-made processes are distinguishing features for her company in this market. "I don't believe in competition," she says to our surprise, "I'd rather opt for complementary solutions and keep in mind the fact that any service or product has its clients, as long as there is a need on the market."
That's why she sees a bright future for her company in the coming years. "We are looking forward to extending our local partnerships, so we can offer our clients outside the Capital the services of our Yourway business line. As for Performanceway, we just want to attract as many industries as possible to gain an even more complex experience," says Mihaela Feodorof. But the business is not without its challenges. "In this business, you have to be always present, to anticipate and act at the same time, while dealing with a complicated legislation. The profile of the entrepreneur, the way I see it, is a combination of madness, a lot of courage and an appetite for challenges," she explains.
Mihaela Feodorof admits she has been fortunate enough to have lived certain experiences in her professional life which brought her tremendous satisfaction. "If we also add the independence I have enjoyed as a key ingredient, since I became an entrepreneur, I can certainly say I am fully satisfied. But, in essence, the accomplishment of each person I work with, fulfilling their dreams, as well as the success of every child I've worked with, make me feel really accomplished each and every day."
How can one aspire to become a successful entrepreneur? The answer comes straight away from the owner of Yourway Life & Career Counseling: "Patience, as well as an organic growth, are elements of stability for each entrepreneur, in contrast with their appetite for adventure and courage to try something different. You must certainly believe in your own ideas and really love each working day, in order to face all challenges with an open heart."
The interview is also available in our print edition of Business Arena.
COMENTARII:
Fii tu primul care comenteaza