EDITORIAL - Strong efforts deserve recognition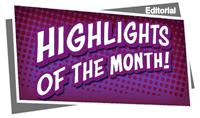 Romania's banking and finance business community has had an exciting year, but more excitement is yet to come. And we don't the mean the upcoming general elections. The successful new strategies, positive results and good prospects for growth are heralding a very tough competition at this year's Financial Leaders' Hall of Fame. In a few short weeks, Business Arena's award ceremony dedicated to this dynamic and crucial sector of the economy will announce the winners of the 16th edition. There will be more information on that soon, but in the meantime, the news about the economy continues to get better... at least on paper.
So, the latest forecast from the Finance Ministry's National Prognosis Committee (CNP) puts the country's 2016 economic growth forecast at 4.8 per cent, up from 4.2 per cent, as it expects a more solid performance across sectors. CNP's data estimates the total GDP at 758.5 billion lei (191 billion USD) in 2016, compared to a 3.8 per cent increase to 712.8 billion lei last year. According CNP, this year's economic growth will be supported by a more rapid increase in final household consumption, forecast at 7.7 per cent. It also expects agriculture to grow by 9.4 per cent, services by 5.8 per cent, construction by 5.7 per cent and industry by 2.4 per cent. In turn, exports of goods and services are expected to grow by 4.5 per cent, while imports are seen soaring by 9.3 per cent. This year's trade balance is projected to hit a deficit of 11.5 billion USD.
Remaining in the area of predictions, company managers expect growth in manufacturing and services in October and November, and contraction in construction and retail, according to a SeeNews report quoting a National Statistics Board (INS) monthly business sentiment survey. It also said managers expect retail prices to fall over the next two months. "Managers from the manufacturing sector expect moderate growth in production volumes, up to 14%, with a sharp increase in pharmaceuticals. Managers also expect a 36% drop in the production of tobacco products over the next two months," the report read.
In a less positive development, Romania fell to 62nd place, from last year's 53rd, in the latest edition of the Global Competitiveness Report published by the World Economic Forum.

For more on the most recent developments in business and economy, see this new edition of Business Arena, with the latest interviews and expert opinions.

COMENTARII:
Fii tu primul care comenteaza