Austria stays committed to expanding ties with Romania

While emphasizing that Austrian investments have supported economic development in Romania over the last 25 years, His Excellency Gerhard Reiweger, the Ambassador of Austria, is firmly committed to strengthening bilateral ties. In an interview with Business Arena, Ambassador Reiweger pointed that education and cultural relations were also high on the agenda alongside economic cooperation and trade.
How would you describe the current conditions in Romania's business environment? What new business sectors have potential to attract more investments from Austria? What are your main objectives in 2016?
Austria and Romania enjoy very strong and highly diversified economic ties, which are an important positive factor in the bilateral relations of our two countries. In the past 25 years, investment by Austrian companies supported economic development in Romania and created or secured a great number of jobs. Since the Romanian government is showing continued interest in attracting investment from abroad, the Austrian Embassy is happy to support these efforts through its Economic office which is staffed by the Austrian Federal Economic Chamber. We will be glad to stay in close contact with the Romanian investment agency in order to attract Austrian investments that introduce modern technology, support environment-friendly production and enhance Romania's exports of internationally competitive products.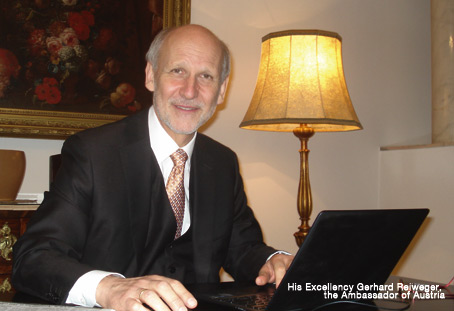 In this context I would like to mention that one focus of our work is to highlight the relevance of corporate social responsibility, which is a most important element of a well-functioning market economy. Last year we organized a public discussion on CSR and we will be glad to continue assisting any efforts to mainstream this important concept.
Another important field of our bilateral cooperation is education: Austria has supported and will continue to support the Romanian government's efforts to further develop an apprenticeship system that will give young people the technical qualifications and practical experience that are sought after in today's competitive job market. By setting up an Austrian school that would cater also to the needs of disadvantaged children, Austria hopes to make a relevant contribution to Romania's social inclusion efforts.
Our long tradition in cultural cooperation is of great value in itself, since cultural exchanges increase mutual understanding and people to people contact. The support for cultural activities, however, can also be an important factor in economic development, e.g. in the development of tourism. Austria is involved and supports many cultural projects in Romania through the activities of its Cultural Forum in Bucharest. In 2016 we shall continue to organize and support joint cultural projects in Bucharest and different regional centres. In this context we shall give special attention to our historic relations with the Banat, as the region commemorates the start of a new era in 1716, when it became part of the Habsburg Empire. We would be most happy to organize events in Timisoara together with our partners and friends from Hungary, Serbia and Turkey.
With a view to the Centennial events of 2018, we will continue to support the cooperation between museums in Bucharest and Vienna, and we are in the process of strengthening our economic and cultural cooperation with Romania's Black Sea region as we will open a new Honorary Consulate in Constanta.
To read the full version, see the print edition of Business Arena.
COMENTARII:
Fii tu primul care comenteaza