Arttis Academy sets the stage for continuous learning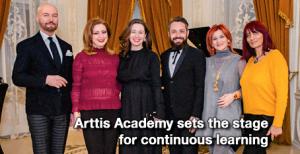 Arttis Academy is a concept that was born in London a few years ago, emerging from the experience of its founders with the multiculturality of the British culture.
The fusion of values and traditions that Roxana and Nicholas had as part of their heritage together with the multiculturality of the British culture, united with the most inspiring ideas of the greatest international minds, has created a revolutionary learning concept focusing on a new way of seeing life and understanding things.
This idea evolved whilst the founders worked in various environments to the point they felt the need to bring it to Romania, thus creating a cultural bridge between London and Bucharest, bringing British artists, international speakers and professionals to Bucharest.
Arttis Academy is learning continuous learning which doesn't stop once you finish a university. Learning evolves and takes on different forms throughout a person's life.
The Academy's mission is to open the path to self-development and personal evolution for an extra-ordinary life through revolutionary training programs and workshops which are so much more than acting and music courses, public speaking and corporate training presenting a unique way of understanding life.
For too long personal development has been perceived as a daunting and boring task. The Academy's programs create a relaxing atmosphere and has the so called 'growth mindset' at its core.
Designed to bring to life all of our hidden capacities, the programs are aimed at all those who seek a new way of thinking, one that is ba­sed on values and on a creative approach to life.
The research made by Harvard University, Carnegie Foundation and Stanford Research Centre has led to the conclusion that 85% of those who are successful at their job have developed people skills and soft skills (creativity, time management, motivation, self-confidence) and only 15% of those successful at their job have developed technical skills and knowledge.

Whether you work in a corporation, are a freelancer or work in any other field, Arttis Academy's personal development courses offer you a space in which you can express who you are without being judged and where you can reinvent yourself with the help of music and acting games.
Benjamin Franklin said that 'an investment in knowledge always pays the best interest'. A good team is everything and, with it, a company evolves and moves forward. In the field of Corporate Training, the Academy's Programs are specially designed for the development of each team member and focuses on higher productivity, employee engagement, stress-reduction, creativity, better team dynamic, mental flexibility and adaptability, providing employees with a sense of being valued.
In a recent 2017 Dale Carnegie study, the companies where employees feel valued have a higher performance, by up to 202%, in comparison with companies where employees don't feel valued. To coach your employees and to give them career growth opportunities is a sure way to make them feel appreciated inside the company.

Arttis Academy's most popular Corporate Training Programs include 'Creative problem solving and play', 'Acting techniques applied in Business', 'Public speaking', 'Understand body language', 'How perfectionism is holding you back', 'Becoming indistractable' and many more.
Team Building is very popular among our corporate clients. And because of that, we work closely with managers and CEO's of companies in their desire to give their team a break from the routine or, as we like to call it, 'a corporate pick me up'. The Academy's trainers are skilled actors and musicians with a vast experience in the corporate world, having inside knowledge of this particular work environment, creating a personalised programme specially designed for the personality of your organisation, focusing on individual progress, positive communication, dealing with change, problem solving and productive team work.
Arttis Academy was founded by Roxana Lupu and Nicholas Lupu.

Roxana Lupu is an actress, with a PhD in Drama Teaching from the National University of Theatre and Film in Bucharest, and a trainer with over 10 years' experience in theatre, feature-films, commercials and voice-overs. She lives in London and has regular projects in Romania.
Among Roxana's acting roles there is Queen Marie in the feature film 'Marie, Queen of Romania', premiering in May 2019, the theatre play 'BU21' at West End's Trafalgar Studios, the mini-series 'Inside Buckingham Palace' and 'Inside Windsor Castle' on Channel 5, as Queen Elizabeth II, 'Royal Murder Mysteries', as Princess Tatiana Romanov, and the recent mini-series 'Private Lives', as Princess Margaret.
In the corporate world Roxana has worked in London as a Business Developer for Angsana, as a Senior Sales Advisor for Ralph Lauren and Nespresso, also as a workshop presenter in the creative learning and life skill field for Learning Performance U.K. She has facilitated workshops on personal development, public speaking and body language for companies such as Capgemini, Rotaract U.K., Nespresso and many more.
Nicholas Lupu is an actor, professional singer and trainer, with experience in various artistic mediums ranging from opera productions, musicals, pop opera to feature films, short movies and documentaries. He is also a choir conductor, founding and conducting various choirs for more than 10 years. He lives in London and has regular projects in Romania.

Among Nicholas's acting roles there is Boris Moscovici in the feature-film 'Queen Marie of Romania', 'Mission Impossible - Rogue Nation', as the Choir Conductor, 'Mars 1001', as Anatoly Nikolaev, 'Fright Night 2', the mini-series 'The Riddle of the Romanovs', as Yakov Yurovsky , 'War of the Worlds' for Discovery Channel, the educational film 'Richard III', as Vincent Tetulior, among other short films internationally awarded.
He has played the role of Khogatal in the musical 'Marco Polo, An Untold Love Story' at the Shaw Theatre in London and many other musicals, opera and operetta shows in collaboration with theatres in Bucharest and in Romania. Among those we mention 'The Barber of Seville' , 'Rebecca' , 'Romeo and Juliet' , 'Die Fledermaus' , 'The Merry widow' and 'Silvia' to name a few.
Also, a special place is held by his project apopoperarevolution, in which a very diverse array of styles and songs are presented in explosive shows with daring choreography.

Arttis Academy takes personal development to a whole new level in an artistic and dynamic way through acting and music - singing courses with the purpose of bring art into our life. When taking part in our programs you don't just take part in a workshop, you enter a community of the most inspiring ideas and people of our generation such as Marisa Peer, Jordan Peterson, Srikumar Rao and Lisa Nichols.
We believe in people and in their capacity to be extra-ordinary.
The interview is also available in our print edition of Business Arena.
COMENTARII:
Fii tu primul care comenteaza