Apulum shareholders see their efforts pay off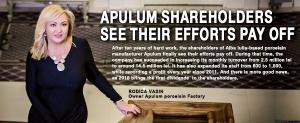 After ten years of hard work, the shareholders of Alba Iulia-based porcelain manufacturer Apulum finally see their efforts pay off. During that time, the company has succeeded in increasing its monthly turnover from 2.5 million lei to around 14.5 million lei. It has also expanded its staff from 600 to 1,500, while recording a profit every year since 2011. And there is more good news, as 2018 brings the first dividends to the shareholders.
Looking back with pride, company co-owner Rodica Vasin said: "Together with my business partner, Mr. Alvaro Santini, we have managed to help this porcelain manufacturer gain a portfolio of important customers, while achieving a sizable increase in production capacity, a modern technological flow, and a diverse production. It's been hard work, but we've succeeded, without the use of European or local funding."
Over the last 10 years, the company's image has changed dramatically, from a troubled entity, grappling with large debts and poor production quality, to a strong organization that has made a name for itself on the market, with its products, services and care for its own employees.
"Building a company's image begins with an efficient communication policy, respect for partners, both internal (employees) and external (suppliers, customers, institutions, banks), and it is the first investment that a confident entrepreneur will make," said Rodica Vasin.
Following the acquisition of its majority stake by a sole investor in 2007, the company made the transition to a new managerial strategy, with ambitious policies, new technology and annual investment programs. This new approach has led to a solid increase in production capacity, allowing the company to secure a significant coverage of the domestic market and expand on foreign markets. According to the company, its production has achieved a very high quality level, being on a par with major international brands.
Apulum started exporting to the Middle East, and it has gradually expanded its reach to demanding European markets, with a long tradition in porcelain manufacturing (the UK, Sweden, Italy, Greece, France, etc.). Today, it is a constant presence at major international specialized trade fairs (such as Ambiente in Frankfurt), and it already has firm commercial relations with important customers in Norway, Spain, Mexico, Ukraine, Germany, the Netherlands, and Denmark.
In that context, Rodica Vasin believes that clear objectives represent the key to business success. "The clearer the targets, the bigger the odds to succeed. However, in life, in any activity, one should allow for a bit of spontaneity and spur-of-the-moment inspiration," she said, and added: "I'm saying that because, back in 2007, I made an important decision,
of which I am proud. I invested in the Apulum porcelain factory, which is today, in 2018, the largest porcelain producer in Europe, offering a wide range of products and enjoying worldwide recognition."
Rodica Vasin also believes that business success requires a strong will to succeed,
a lot of effort, ambition, and a bit of luck.
"One should be able to see the opportunities and seize them when they appear. Sometimes, I saw them, sometimes, I didn't, but I know for a fact that I have even created some opportunities for myself. Even so, I have always regarded success as the result of a team effort."
She added: "Business decisions are made every day. They are all important, as their role is to improve operations, reduce costs, increase product quality, employee and customer satisfaction. Our most recent strategic decisions include the launch of a high-end range of products, with limited volumes, targeting a segment of the luxury market."
The company's management team has built the Apulum brand, under the majority shareholder's guidance, and its consolidation and growth are ensured with new future projects focusing on development and efficiency improvement, creating new jobs and implementing an integrated management system. "A company's corporate identity is not just an image stunt. A successful company has an identity, a true and genuine behavior. To create a positive image, companies can use both classic advertising, targeting an entire range of potential customers, and corporate advertising, allowing recipients to form an opinion. A company's image and strategy don't offer immediate solutions, but they provide realistically planned objectives."
Speaking about professional success, Rodica Vasin emphasizes the importance of being aware of our own skills and abilities.
"It gives us a great advantage in making the right choice that, in the long run, can bring
fulfilment and satisfaction." She also said:
"A woman must lead a constant battle in a society asking her to fill specific roles. She needs to prove her strength and, with tact and diplomacy, turn feminine sensitiveness and candor from apparent weaknesses into proofs of strength and self-knowledge." On that note, she points out that that the image she has
created for herself is that of a "strong, ambitious person, who has committed herself to beating limitations, with a strong confidence in her own ca­pa­city to learn constantly from others and from her own experie­n­ces."
Rodica Vasin completed her professional education in Romania, but since 1980 she has had the chance to explore new opportunities abroad. "I spent the first three years in the commercial segment, as I was appoin­ted commercial manager just six months after I joined a fashion production company. The business contacts I made in Europe and in the United States allowed me to consider entrepreneurship on my return from the US. So, in 1983 I started a company on my own, focusing on distribution on the Italian market. Of course, I favored Romanian companies, and I became a regular customer for important companies such as: Emailul Medias, Apulum SA Alba Iulia, Iris Cluj-Napoca, Arpo Curtea de Arges, Ceramar, Cesiro, and Stil Glass Suceava".
Coming back to the present and to the
near future, one of our goals is to improve
and strenghten the presence of Apulum on the domestic market. Today 90% of the production reaches foreign markets, tomorrow we would be pleased and proud to see Apulum's brand on more Romanian tables.
The interview is also available in our print edition of Business Arena.
COMENTARII:
Fii tu primul care comenteaza