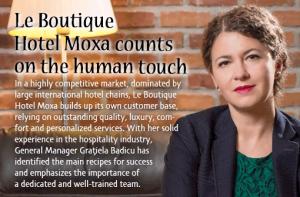 In a highly competitive market, dominated by large international hotel chains, Le Boutique Hotel Moxa builds up its own customer base, relying on outstanding quality, luxury, comfort and personalized services. With her solid experience in the hospitality industry, General Manager Gratiela Badicu has identified the main recipes for success and emphasizes the importance of a dedicated and well-trained team. In an interview with Business Arena, she agreed to speak about the aspects that give her hotel an edge against its competitors.
Could you please provide some details about your qualifications and professional experience?
I graduated from the Politehnica University of Bucharest's Faculty of Chemistry, the French/German bilingual program. Later, I obtained a Master's degree and a European MBA, whose final project focused on hotel business. I have also had the opportunity to attend a number of training sessions, organized by various hotel chains such as Accor, Hyatt and Wyndham, both in Romania and abroad.
I started working in this industry in 1997, at the Sofitel. During my five years with the hotel, I basically laid the foundation of my career in the hotel industry, and I can say that I fell in love with this business. I worked with excellent professionals and I had the chance to attend many marketing and sales/negotiation training sessions both within the hotel and at the Accord Academy at Evry, France.
In 2001, I took over as head of Bucuresti Hotel's sales and marketing department, and I subsequently moved to the operations department at Centre Ville Aparthotel (part of the same hotel, which is now part of the Radisson), where members of parliament and diplomats used to stay.
It was a time full of challenges for me, being directly involved in a wide range of activities. I remember with great joy that our efforts were paying off, and the nearly 400-room hotel had an occupancy rate in excess of 80 per cent, which made it market leader in those days. I worked together with professional individuals and a dedicated team, some of whom work for Le Boutique Hotel Moxa today.
In 2007, I was recruited by the Howard Johnson Grand Plaza for the position of Sales and Marketing Manager, coordinating the hotel's sales, marketing and PR team. Howard Johnson represented a remarkable experience for me, offering new opportunities, as part of an international chain. From the end of 2012, I took over as the head of Le Boutique Hotel Moxa.
Would you please make a brief presentation of Le Boutique Hotel Moxa and of the "boutique hotel" concept?
In 2010, a former residential property on Calea Victoriei was add added to the main building of Le Boutique Hotel Moxa, which had opened for business in 2006. Thus, the modern building on Mihail Moxa St. expanded with the nearby mansion-like property and its inner garden, which belonged to Grigore Duca in the early 19th century.
Beautifully located on the most popular street of Bucharest, Calea Victoriei, Le Boutique Hotel Moxa features 53 classically decorated rooms, two fully-equipped meeting rooms, offering free Wi-Fi Internet, an international cuisine restaurant, with a la carte menu, parking, fitness facilities, spa providing relaxation after a busy day, massage, sauna and a cozy patio.


To read the full version, see the print edition of Business Arena.
COMENTARII:
Fii tu primul care comenteaza