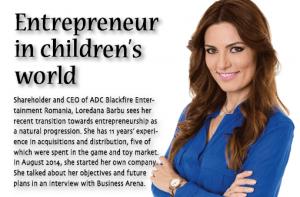 Shareholder and CEO of ADC Blackfire Entertainment Romania, Loredana Barbu sees her recent transition towards entrepreneurship as a natural progression. She has 11 years' experience in acquisitions and distribution, five of which were spent in the game and toy market. Having also gained management experience in the retail sector (Diverta), she took the challenge and became involved in the launch of a start up for an investor in the toy distribution segment. However, in August 2014, she started her own company. She talked about her objectives and future plans in an interview with Business Arena.
Loredana was a student at the Academy of Economic Studies when she started to work as an assistant manager for a bank. She wanted to do something useful while still studying for her degree and she took the first opportunity that presented itself. "I cannot remember my first day at work, but I do know that I was very happy and enthusiastic about the new job. It didn't matter that I was supposed to answer the telephone and send faxes all day and even serve coffees during meetings. In fact, I felt very important that someone needed me. However, I realized quite early that I was not going to stay in the banking business and after my graduation I decided to take the next step in my career," she said. Her plans seem to have always panned out as intended, and from those early days she had made it a target to move into entrepreneurship after the age of 30, being well aware that she needed to gain experience before starting a business of her own. She has always found new things to learn and she believes that "everything is more exciting when you take up risks and get directly involved in business."
To read the full version, see the print edition of Business Arena.
COMENTARII:
Fii tu primul care comenteaza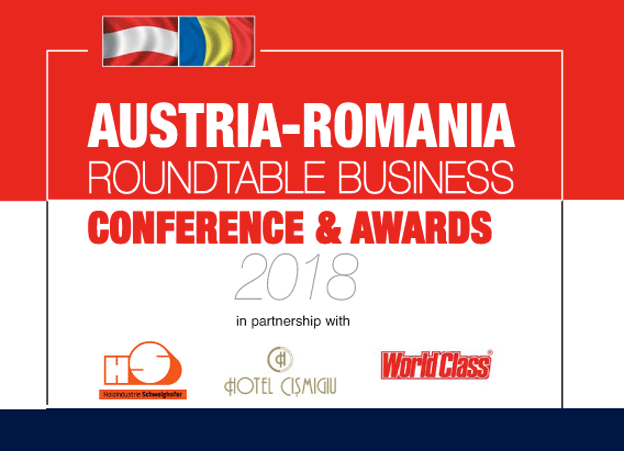 Frequent changes in legislation and taxation, stuffy bureaucracy continue to represent major hurdles for investors in Romania. However, Austrian investors have positive expectations and continue to remain strongly committed to their development plans in this country.
In this context, Business Arena is proud to announce its annual event dedicated to Austrian investors. Business leaders, bankers and entrepreneurs will all get together to discuss and share their views on the latest economic trends and challenges at Business Arena's 2018 Austria - Romania Roundtable Business Conference and Awards.