Women mean business
The eighth edition of Business Arena's Most Admired Business Women Awards Gala brought together some 150 guests at the Crowne Plaza Hotel last night to celebrate women's achievements in the workplace and their vital contribution to the success of business and banking activities throughout Romania.
Invited to give the opening speech, Elisabeta Lipa, Minister of Youth and Sport, emphasized women's determination to obtain results: "I am deeply honored to be here tonight in the presence of the most successful women in Romania. According to a World Bank study, 40 per cent of Romania's economy is generated by women, but I am sure that the percentage is much bigger." She added: "I am sorry for men, but they don't seem to have that determination and strength of mind, they don't seem capable of the same self-sacrifice as women. These are key ingredients for top performance." The Minister also said: "I don't see myself as a successful woman, but I've worked hard to achieve my dreams all my life. These days, I compete against myself. And I am sure that you all feel the same."
This year's awards event was hosted by Larisa Claru - The Social Incubator Association.
A recent study by financial services company KeysFin revealed that more and more women were entering the business area, indicating that over 200,000 companies in Romania had women as their majority shareholders. According to the same study, Bucharest has the largest number of companies controlled by women, 47,118, followed by Cluj (11,842 companies), Timis (9,797 companies), Constanta (9,401 companies), Prahova (7,654 companies) and Ilfov (6,984 companies).
In this context, last night's awards gala had among its guests entrepreneurs, investors, business leaders, diplomats, and professionals from a wide range of sectors, celebrating the successes of women in business.
At the same time, experts agree that Romania has seen some improvement in gender equality in recent years, but efforts must still be made to ensure equal opportunities for men and women in the workplace.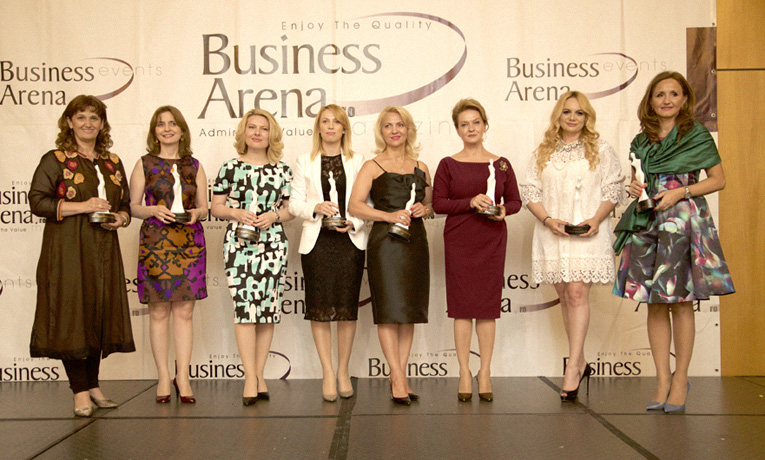 WINNERS - 2016

Most Dynamic Career Development

CRISTINA NEACSU - CAPITAL PLAZA HOTEL


Most Creative and Innovative Approach to Business Excellence

DR. LAURA MOCANU – ART IMPLANT


Best Entrepreneur

MIHAELA PROICEA – BIO ORTOCLINIC


Most Dynamic Approach to Business Growth

VIOLETA LUCA - MICROSOFT ROMANIA


Most Creative Leadership

SIMONA BACIU – TRANSYLVANIA COLLEGE


Best Business Development Strategy

MIHAELA BORCEA


Leading Corporate Executive

DANA DEMETRIAN – BANCA COMERCIALA ROMANA


Lifetime Achievement

ELISABETA LIPA – MINISTRUL TURISMULUI SI SPORTULUI


Most Admired Community Development Supporter

DORIS THEODORA MIRCEA – MINISTERUL AFACERILOR EXTERNE


Model of Excellence

GABRIELA ALEXANDRESCU – SALVATI COPIII ROMANIA


Most Ardent Business Sustainability Advocate

MONA NICOLICI – OMV PETROM


Most Admired Woman of the Year

SORANA BACIU – MINISTERUL ECONOMIEI

We would like to take the opportunity and congratulate this year's winners once again. And we would also like to thank our partners:
AUTOMOBILE BAVARIA BMW, GANTIBANK ROMANIA, APULUM, EXIMBANK ROMANIA, CORPORATEBASKETS, SWISS ECODENT CLINIC, AMUSE EVENTS, HAPPY TOUR, WORLDCLASS ROMANIA, VINITALY DELUXE, FUNDATIA NICOLAE VOICULET, TRENDS BY ADINA BUZATU, KARMEN HERSCOVICI SI CROWNE PLAZA HOTEL.



For more details and photos from this special event, see the upcoming print edition of Business Arena.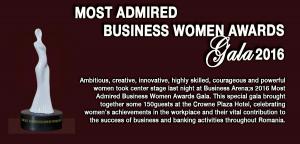 COMENTARII:
Fii tu primul care comenteaza