Appetite for a Delice-ious business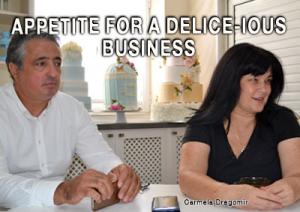 Anyone with a sweet tooth had better get ready to be tempted, because the following business journey is filled with appetizing details and a passion for sweetness and flavor! The latter could be the key-ingredient for Carmela Dragomira
The moment anyone sets foot in the large Delice production facility, based in Campina, the visitor is immediately surrounded by a sweet scent of caramel, cinnamon and chocolate. Everywhere you look, confectioners are busy preparing delicious treats, from chocolate and fruit cookies, to elaborate wedding and party cakes.
As for Carmela Dragomir, she seems to have a predestined name. She is an artist. And just like any other artist, she gets creative, using sugar as a material to give life to mouth-watering works of art. The founder of the Delice sweets and pastry brand has participated in national and international competitions, has spent thousands of hours in her production unit and has invested thousands of euro in the fascinating art of candy production. And her efforts have always been recognized. She won three gold medals at the Erfurt Olympics and the World Cup in Bruxelles and managed to transform Delice into a multi-million-euro brand. "At the moment, Clarion and Delice administrate a 700-square-meter production unit and three confectionery shops in Campina, four outlets in Ploiesti and one in Busteni, covering the entire range of pastry and confectionery products."
It is an ongoing development process, Carmela Dragomir told Business Arena: "We are planning two more investments in the upcoming months. We have already opened a new candy shop in Campina and we are planning to open a new one in Ploiesti, both with an investment of over 100, 000 euro. We won't rule out the possibility of a franchise, even if we are a bit reluctant about that, as we put a lot of pride in our reputation. Many of those who desire a Delice candy shop are not aware of the necessary costs involved, of around 50,000 euro." More than 170 people work for Delice, as part of a business whose activities total some 20 million lei a year, accounting for more than four million euro in turnover in 2016. "For this year, we expect some 15 percent growth in our sales. We are very content with our turnover at the moment and we wish to maintain our current standards. Of course, if we manage to grow even more, we will be delighted!" said Dragomir.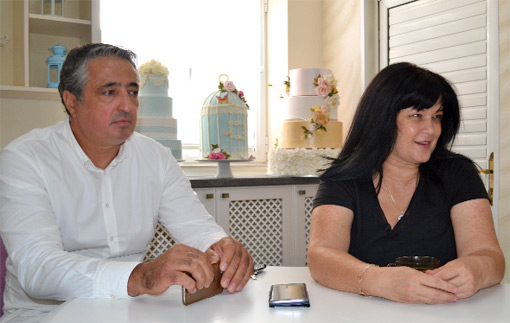 The beginning was bumpy and took many hours of hard work and sacrifice. "I opened my own candy manufacturing unit and one year later I met my associate, Laurentiu Dascalu, with whom I started the Clarion business. In 2000, I rented a space and turned it into a production facility. The beginning was all about extreme hard work. It was just me and this other girl. After eight hours of work she used to go home, but I would just keep going. That's how much effort it took for me to build up my business," Carmela Dragomir confessed.
Now, 18 years later, she still takes on difficult tasks and challenges in a blink. Her production facility offers any visitor a long journey across the globe, with one common thing: the fine sweet taste. Whether you want to try delicious Belgian chocolate, a lychee and lime mousse or a mille foglie with raspberry you can find them all in one place. "In our menu we have light products as well, such as purees of mango, passion fruit, green pepper, caramel and coffee, as well as creamy cookies, fruit tarts and party cakes, along with pastries and Romanian traditional sweet products. All this means some 400 varieties to choose from. Over the years, I have discovered that I can make cookies of any kind. From truffles covered in gold and silver leaves, to new and surprising recipes, such as the Belcolade cake or the Chocolate Trilogy. These are creations present in any respectable candy shop of our days. The decoration of all these products is very important as well. Our specialists use a lot of imagination along with fine quality ingredients, such as Belgian chocolate, natural whipped cream, marzipan, pasta icing or decorating gels in different flavors."
In a world more and more interested in and inclined towards anything gourmet, leaving behind the competition might be a tough goal to reach. Delice management is very laid back about it though. "We will continue to use natural ingredients. Black chocolate is the aspirin of the heart. The cocoa butter, which is the main ingredient in the manufacturing of chocolate, cleanses the blood vessels. 10 grams of chocolate consumed daily maintain a healthy heart. The higher the cocoa content of a chocolate bar, tablet or a cookie, the better it is for our body. We always keep that in mind in our sweets production."
As Delice treats became more and more appreciated by the public, the attention of the company's management moves towards other cities as well. "In the long term, we plan to open an outlet in Bucharest. We already deliver our products there for various events, we also supply many restaurants in the Capital… We would love to extend to many more cities, but our main obstacle at the moment is the lack of trained personnel, a real problem in our market segment," said the company's co-founder, adding that "we have constantly invested in technologizing our business. The moment our business exploded was the opening of our first candy shop in Ploiesti and the launch of our Belcolade cake. The events seasons bring the largest sales for our company, considering the fact that a wedding cake can cost up to 3,000 lei, and we have had days when we sold up to 70 wedding cakes."
A well-respected expert when it comes to fabulous desserts and treats, with international distinctions and awards, Carmela Dragomir also revealed some of her competition experience. This was a long journey, as captivating as her own business: "After my first international contest, in Cyprus, I realized that I couldn't handle many techniques. That made me take some international courses and learn as much as I could, because I felt that what I did know was out of date compared to what other experts of that time knew. After that, I participated in every edition of the world Olympics, winning gold medals, such as the Olympiade der Köche, in 2008 and 2012. I also participated in The International Cooking Championship – Sweets Section in 2009, The International Contest in Gastronomy in 2013, as well as the International contest in Luxembourg in 2010, where I won the second place, and so on. When I got my first gold medal in Luxembourg, people visiting the Romanian booth were shocked: 'How can Romanians know how to make these things? Since when?' they all would wonder."
And now, new challenges lie ahead. Carmela Dragomir is preparing for the World Cup competition in Brussels next year, with…
a surprise partner to ensure Romania's victory: "I chose Ioan Florescu, the famous chef from Belvedere Brasov, to be my partner in this adventure," she said proudly.
The interview is also available in our print edition of Business Arena.
COMENTARII:
Fii tu primul care comenteaza