The penthouse market remains stable in spite of the economic recession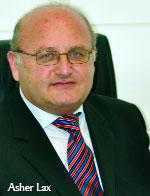 While most segments of the real estate market have seen a significant decrease in sales over the last two years, penthouses enjoy the benefits of a less fluctuating demand from clients in search of luxury and comfort, analysts told Business Arena Magazine. Thus, the selling prices for such apartments still reach up to 3,000 euro/sqm. Representing one privileged market segment, despite the ongoing financial instability, luxury apartments will continue to see a steady demand.
"Now the level of demand of penthouse apartments remains stable. Those who wish for such a home and are attracted by the lifestyle associated with that type of housing will purchase such apartments no matter what the market trend might be," said Adama's VP Marketing & Sales, Asher Lax, in an exclusive interview. He further added that "Romanian consumers of luxury products are more inclined towards emotional purchasing, based on their momentary needs or on a tendency to align themselves to Western trends. However, in certain situations personal satisfaction has been overshadowed by the need of placing strategic investments. While Romanian consumers tend to see penthouses as marks of comfort and exuberance, Westerners would rather regard them as investment tools."
As the perspectives for improvement in the residential sector remain pessimistic in 2011, the overall level of demand for penthouse apartments will not see significant growth anytime soon. "The criteria taken into consideration when speaking about the facilities offered by penthouse apartments, as well as their prices, make them very sensitive products," explained Mihaela Pana, Head of the Residential Department, DTZ Echinox. After all, such apartments are still part of a suffering real estate market, which has seen a significant decrease in the number of new deliveries of modern residential complexes and a very low solvable demand. "This year's economic growth forecast will not be reflected in the level of demand for apartments. Thus, lacking other elements to sustain demand, the price policies generated by developers/investors will be the main mechanisms to positively influence the number of transactions," Andreea Voicu, residential negotiator for BNP Paribas Romania, told Business Arena Magazine.
In 2010, the number of new finished penthouse apartments remained low, developers showing little interest for launching new projects. "We could conclude that this type of residential units will continue to be available in small numbers in the coming period of time." This trend prevails in spite of a "quite significant and constant level of demand for these apartments," according to Eduard Uzunov, President of Regatta Real Estate. "Penthouse apartments continue to be highly-valued by clients, especially because they are located in some of the best areas. The major difference between penthouses and other newly-built apartments in the Capital is their price. At general market level, the overall demand for penthouse apartments is relatively low, but if we look strictly at the luxury residential segment, which they are part of, the demand is higher and clients who specifically look for such apartments are true connoisseurs."
Uzunov also said that 2011 might see a slight increase in the number of penthouses delivered for sale. "Modern residential complexes, originally launched in 2007-2008, will eventually be finalized when the market allows it. The same story goes for projects launched in 2009 - 2010. If we consider these factors, we could soon have new penthouse apartments available for sale."
Regatta's president emphasized another aspect which could play an important role in the evolution of the penthouse market: "As potential clients have seen their incomes gradually decreasing, triggering lower interest for investments in this type of apartments, developers have devised a new strategy, reducing the space initially offered by these apartments nearly by half, while still offering premium facilities, a beautiful view and accessibility. It is, therefore, expected that an increased number of such apartments should go on sale in 2011. However, the offer involving full-size penthouse apartments will be much lower."
Location and space
To read the full version, see the print edition of Business Arena.
COMENTARII:
Fii tu primul care comenteaza