Most Admired Business Women Awards Gala 2017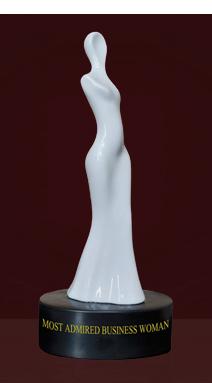 An increasing number of women manage industrial facilities, major companies and build their own successful businesses in Romania nowadays. They have achieved a high level of recognition. Therefore Business Arena Magazine proudly announces the upcoming special awards gala dedicated to the ladies that make a difference in business.

Experts agree that Romania has seen some improvement in gender equality in recent years, but efforts must still be made to ensure equal opportunities for men and women in the workplace.

In this context, Business Arena continues its tradition, celebrating women's achievements and their vital contribution to the success of business and banking activities throughout Romania. On this note, our publication proudly announces the upcoming special awards gala dedicated to the ladies that make a difference in business.

The Most Admired Business Women Awards Gala 2017 will bring together entrepreneurs, investors, business leaders, diplomats, and professionals from a wide range of sectors to celebrate the successes of women in business.

Meanwhile, ensuring gender equality remains a priority all over Europe. Citing the findings of a 2016 research, Grant Thornton revealed that Eastern European countries dominated the international league table for senior female business leaders, including seven of the top ten, with Russia at number one. However the proportion of women reaching the top tier of the business world had shown little progress over the past decade, it said.

Grant Thornton's research revealed that 40% of senior business roles in Russia are occupied by women, the highest in the world, and almost double the global average (22%). The next five countries on the list are all near neighbours: Georgia (38%), Poland (37%), Latvia (36%), Estonia (35%) and Lithuania (33%).
Francesca Lagerberg, global leader for tax services at Grant Thornton, said:
"The domination of Eastern European nations is explained by a complex blend of factors including history, culture and demographics. A thriving culture of female entrepreneurship is a legacy of the Communist ideal of equality of opportunity and this extends into the broad range of subjects women study in the region. Consequently we find women well represented in services industries too; and not just those traditionally with high numbers of women like healthcare and hospitality, but emerging industries such as financial services and technology."
Francesca Lagerberg added: "We've heard businesses talk the talk on gender equality for decades now, but still too few are walking the walk. Aside from the moral issue of ensuring equal opportunity for all, a more representative blend of women and men in senior roles just makes good business sense. If an economy is only using half its most talented people then it immediately cuts its growth potential."
THIS YEAR'S AWARD CATEGORIES

Most Admired Woman of the Year

Model of Excellence

Best Entrepreneur

Most Creative Leadership

Lifetime Achievement

Leading Corporate Executive

Most Dynamic Approach to Business Growth

Most Ardent Local Community Advocat

Most Dynamic Ambassador of Romanian Creativity

Most Creative and Innovative Approach to Business Excellence
Here are the top nominees as determined by our readers' votes so far.

Please select your winners for
the listed categories and send us your choices.


| | |
| --- | --- |
| NAME | COMPANY |
| OANA TABAN | DENT ESTET |
| ALINA DAMASCHIN | ROGALSKI DAMASCHIN PUBLIC RELATIONS |
| RUSANDA COJOCARU | CREATOR BOOKLETTA |
| ADRIANA ALIONTE | SHAKESPEARE SCHOOL |
| SEVERINA PASCU | UPC ROMANIA&UNGARIA |
| ANCA BIDIAN | KIWI FINANCE |
| SONIA NECHIFOR | FONDATOR PR COMMUNICATION ON |
| EMILIA GHEORGHIU MILICIN | ORTODENT |
| DANA DEAC | FUNDATIA ORANGE ROMANIA |
| DANA STANCIULESCU | CORE INVEST HEALTH |
| VIVIANA IORDACHE | DERMALIFE |
| LARISA PETRINI | FOOD REVOLUTION DAY |
| DIANA SEGARCEANU | AVENOR COLLEGE |
| SINZIANA MAIOREANU | AEGON |
| DANIELA BUDUREA | WESTERN UNION ROMANIA |
| GABRIELA SZABO | ADECCO ROMANIA |
| CRISTINA BATLAN | MUSETTE |
| NINA MOLDOVAN | LIBERTY TECHNOLOGY PARK CLUJ |
| GABRIELA MELANIA CIOT | UNIVERSITATEA BABES-BOLYAI |
| CAMELIA ENE | MOL ROMANIA |
| GEORGIANA SCHMUTZER | TRIP TAILOR |
| MERICA VIDIS | AMBASADA CROATIEI |
| ANA ELENA CERNAT | BANCA ROMANEASCA |
| MARINA POPESCU | FLORIA |
| GEMMA WEBB | BRITISH AMERICAN TOBACCO |
| MIHAELA MARCU | MEDLIFE |
| RODICA SFACA | FONDATOR RONEX PRODUCTIE |
| OLGA MILIHOV | BNP PARIBAS REAL ESTATE |
| MADALINA POPESCU | HBO ROMANIA |
| BOUTHEINA LABIDI | AMBASADOR TUNISIA IN ROMANIA |
| MAGDA BEI | GRAPHTEC DESIGN |
| ANGELA GALETA | FUNDATIA VODAFONE ROMANIA |
| LILIANA TUROIU | INSTITUTUL CULTURAL ROMAN |
| MONIKA PUIU | NHR AGROPARTNERS |
| FLORENTINA TAUDOR | RENANIA |
| ANA BIRCHALL | MAE |
| IRINA POGONARU GEORGESCU | PHOTOLIU |
| MIOARA POPESCU | IDEA BANK |
| SILVANA SIMA | NEW KOPEL GROUP |
| LUDMILA CLIMOC | ORANGE ROMANIA |
| DOINA CEPALIS | TE-ROX PROD |
Please send in your own nominees to cosmin.stangaciu@business-arena.ro.

for more information please contact Cosmin Stangaciu
at cosmin.stangaciu@business-arena.ro or phone 0755.274.125.
Send in your suggestions for this year's awards
at
cosmin.stangaciu@business-arena.ro
COMENTARII:
Fii tu primul care comenteaza