Business Arena Magazine is proud to announce the winners of the 17th edition of its annual event dedicated to financial market leaders: 2017 Financial Leaders' Hall of Fame

The 17th edition of the Financial Leaders' Hall of Fame Awards gala brought together over 100 banking and financial leaders, professionals and diplomats for a special sit-down gala dinner event, hosted by the Crowne Plaza Bucharest Hotel. Invited to give the opening remarks at last night's gala, Radu Gratian Ghetea, President of CEC Bank and Honorary President of the Romanian Banking Association, emphasized that Romania needed true leaders in business, but he pointed that the path to becoming a leader is long and difficult.
"From graduating university to actually becoming a manager and then from being manager to becoming a leader we are looking at two very long journeys that need to be traveled. Tonight, we are about to find out who are the people and organizations that have succeeded in achieving leadership status in their business sectors," said Ghetea.
On this note, Business Arena would like to take the opportunity and thank its partners: Raiffeisen Bank Romania, Banca Transilvania, Idea Bank, Alpha Bank Romania, CEC Bank, Apulum Porcelain Factory, Holzindustrie Schweighofer, NHR Agropartners, Swiss Ecodent Klinik, Corporatebaskets, Hama Romania, Amfiteatru Vitis, Worldclass Romania, Trends By Adina Buzatu, Cristiana Radu Media.
See the upcoming print edition of Business Arena for more details, reactions and photos from this special annual event.
Business Arena Magazine proudly recognizes the achievements and successes of banks, financial institutions and business leaders that have found the winning strategies in a challenging business environment.
Winners 2017

BEST OPERATIONAL LEASING COMPANY
BUSINESS LEASE ROMANIA

LEASING COMPANY OF THE YEAR
UNICREDIT LEASING CORPORATION IFN

BEST FINANCIAL ADVISER
KIWI FINANCE

RETAIL BANK OF THE YEAR
UNICREDIT BANK

SPECIAL BUSINESS ARENA AWARD FOR EXCELLENCE
TRANSACTION OF THE YEAR IN DEBT MANAGEMENT
Top Factoring

BEST USE OF TECHNOLOGY IN BANKING
RAIFFEISEN BANK

SME BANK OF THE YEAR
BANCA TRANSILVANIA

BEST CORPORATE BANKING PRODUCT
CEC BANK

CORPORATE BANK OF THE YEAR
EXIMBANK

BANK OF THE YEAR
GARANTI BANK

BANKER OF THE YEAR
MIOARA POPESCU – IDEA BANK



COMENTARII:
Fii tu primul care comenteaza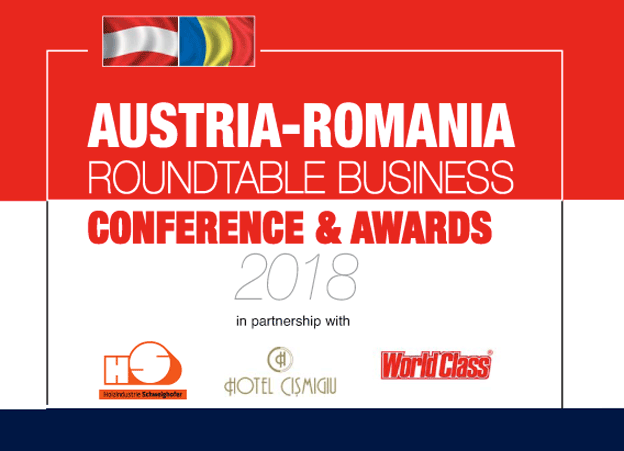 Frequent changes in legislation and taxation, stuffy bureaucracy continue to represent major hurdles for investors in Romania. However, Austrian investors have positive expectations and continue to remain strongly committed to their development plans in this country.
In this context, Business Arena is proud to announce its annual event dedicated to Austrian investors. Business leaders, bankers and entrepreneurs will all get together to discuss and share their views on the latest economic trends and challenges at Business Arena's 2018 Austria - Romania Roundtable Business Conference and Awards.