Banking industry enjoys successful year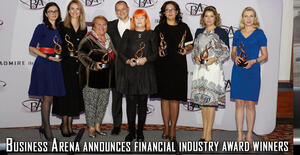 Operating in a highly competitive environment, banks and financial institutions have made outstanding progress in introducing new and innovative products and cutting-edge technologies. And even though the industry as a whole has been affected by the ongoing Covid-19 situation, Romania's banking and financial sector is looking back proudly on its success stories.
In this context, Business Arena is proud to recognize the efforts and achievements of successful companies, banks, entrepreneurs and investors. Dubbed the engine that drives the economy, banks and the financial sector came into focus last night, as Business Arena held its annual Financial Leaders' Hall of Fame awards gala, in the presence of banking and financial leaders, professionals and diplomats.
Looking at the broad picture, Romania's economy has shown a strong recovery after last year's decline, and, according to Erste Bank, the GDP growth is expected to reach 7.4% this year and 4.5% in 2022. "We expect gross fixed capital formation to become an important driver for economic growth over the 2022-27 period, boosted by combined inflows of EU funds of almost 80 billion euro from the regular Multiannual Financial Framework and the Next Generation EU Program. GDP is expected to run above potential in the years to come, even employing a conservative growth multiplier from public investments. Broad and likely unpopular reforms are needed to lift potential growth," an Erste Bank report noted.
Coming back to last night's awards gala, the special event was moderated by Andy Alexandru Antemia and organized in partnership with Raiffeisen Bank, CEC Bank, First Bank,Garanti BBVA, EximBank, Apulum Porcelain Factory, World Class Romania, Domeniile Averesti, Kanal D, Borsec, Trends By Adina Buzatu, The Brandoers, Ramada Bucharest Parc Hotel.
See Business Arena's upcoming print edition for more details, photos and winners' reactions.
2021 WINNERS:
KIWI FINANCE
Recognizing strong operating results and overall strategy reflected in its outstanding contribution to the development of the local lending market.
BEST BANK FOR LIBERAL PROFESSIONS


LIBRA INTERNET BANK

Recognizing superior planning and strategy reflected in its successful development of innovative products and services dedicated to liberal professions.


DIGITAL BANKING CHAMPION OF THE YEAR
CEC BANK
Recognizing its successful digital transformation efforts, leadership and culture committed to providing the best user experience to individuals and companies.
MOST INNOVATIVE BANKING PRODUCTS


UNICREDIT BANK

Recognizing its outstanding role in stimulating the use of modern banking instruments and procedures in Romania, providing innovative, cutting-edge products and services for corporate and individual customers.

BEST BANKING STRATEGY

GARANTI BBVA

For achieving a high level of recognition in the market as a financial trusted partner, based on healthy growth, diversifying its product portfolio and digital channels, and keeping pace with customer needs.

RETAIL BANK OF THE YEAR

FIRST BANK

Recognizing its outstanding success in employing cutting-edge digital banking solutions to provide innovative products and services and unconventional customer communication channels.

CORPORATE BANK OF THE YEAR


RAIFFEISEN BANK ROMANIA

For achieving a high level of recognition and responding better than any other bank to corporate customers' needs and expectations, providing innovative products and services and taking important steps in the area of sustainable financing in a highly competitive market segment.

BANK OF THE YEAR

BANCA TRANSILVANIA

Recognizing superior planning and outstanding growth strategy reflected in successful expansion of operations, with cutting-edge products and services for a widening customer base.

BANKER OF THE YEAR

OMER TETIK

CEO – BANCA TRANSILVANIA

For achieving a high level of recognition and admiration from the general business community for outstanding results and qualities of creative leadership, reflected in his essential contribution to Banca Transilvania's successful expansion strategy.

COMENTARII:
Fii tu primul care comenteaza